Oven Cooked Pork Burnt Ends
Pork burnt ends have fast become a BBQ classic, and for good reason, but it seems unfair that only those with a smoker can enjoy them at home. Fear not, let us show you how to make your own pork burnt ends at home in the oven, no smoker required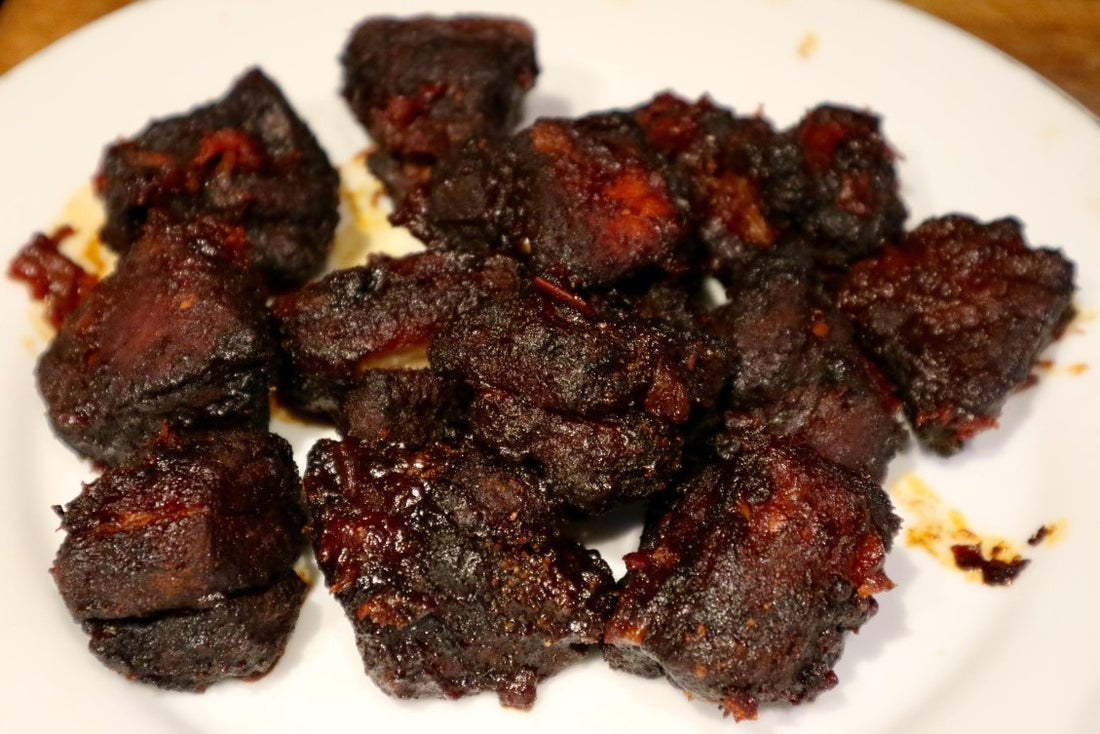 Prep: 10 Minutes
Cook: 180 Minutes
Total: 190 Minutes
Category: Main
Skill: easy
Cuisine: American
Pork burnt ends are smokey, sticky chunks of pork belly that are coated in a dry rub, smoked until they have a deliciously crunchy bark, and finished off with a healthy glaze of sticky barbecue sauce. If you've been fortunate enough to try them at any point in your life, you'll know, they are absolutely delicious. Smokey, sticky, and with that insane crunchy bark. They are a real treat. It was not a question of whether or not to do my own recipe, it was more like when to do it. It also provided me with the perfect opportunity to combine my pork dry rub recipe with my BBQ sauce recipe, as you need to use both to create the perfect pork burnt ends. The only problem I faced was that I don't currently own a smoker, so I needed to do a recipe that worked in the oven. So, that's what I did, and they turned out great. Obviously they don't come out with that deep smokey flavour, but they are nonetheless delicious. Try them for yourself and let me know what you think in the comments below. 
How can I keep my burnt ends moist?
Pork belly usually contains a good amount of fat, but if you're unlucky enough to have find yourself with some very lean meat, you'll need some help to stop the burnt ends drying out. The best way to do this is to fill a clean, food safe spray bottle with apple juice, and spritz the pork every 20-30 minutes during the initial 2 hours of cooking. This will help keep the meat moist and, as an added bonus, also add a nice caramelising layer of flavour. In fact, even if your meat isn't too lean, you might want to give it an occasional spritz for this very reason. 
What if I don't have the time to make the dry rub, or bbq sauce?
If you're struggling for time, or it's your first go at cooking burnt ends in the oven, then you're going to want to make your life a little simpler. Instead of making the dry rub from scratch, use a store brought pork rub, or use that one you've had in the cupboard for the last few months. Instead of making the BBQ sauce from scratch, use your favourite store brought one, you've probably already got some in the fridge anyway.
Ingredients
Method
Cover the pork cubes in the pork dry rub, making sure to coat all sides, and place on a raised cooking grid/wire rack inside a roasting dish. This allows the fat to render out of the pork.

Place in the center of a pre heated oven at gas mark 2/150C/130C fan and cook for 2 hours.

Remove the pork from the oven and transfer to an aluminum tray. Glaze the pork thoroughly in the bbq sauce, making sure to coat all sides.

Place the aluminum tray in the oven and continue to cook. Check the pork every 10 minutes and glaze with more bbq sauce as you see fit. I personally like to like glaze them 2/3 times to make sure they are nice and sticky.

Remove from the oven once the outside of the pork has caramelised and you have that nice crunchy bark. If you need to, turn the oven up high for 5-10 mins to get that perfect bark.

Serve alongside any number of bbq dishes, such as pulled pork, or even beef brisket. Delicious.
FAQ's
How do you make burnt ends on a smoker?
Simply follow the recipe, but instead of slow cooking them in the oven, pop them in the smoker at the appropriate temperature (around 150C).
Is sliced pork belly bacon?
No, sliced pork belly has not been cured so is therefore not bacon. Pork belly only becomes bacon once it has been cured. Bacon made using pork belly is known as streaky bacon in the U.K.
Regular price

From £19.99

Regular price

Sale price

From £19.99

Unit price

per