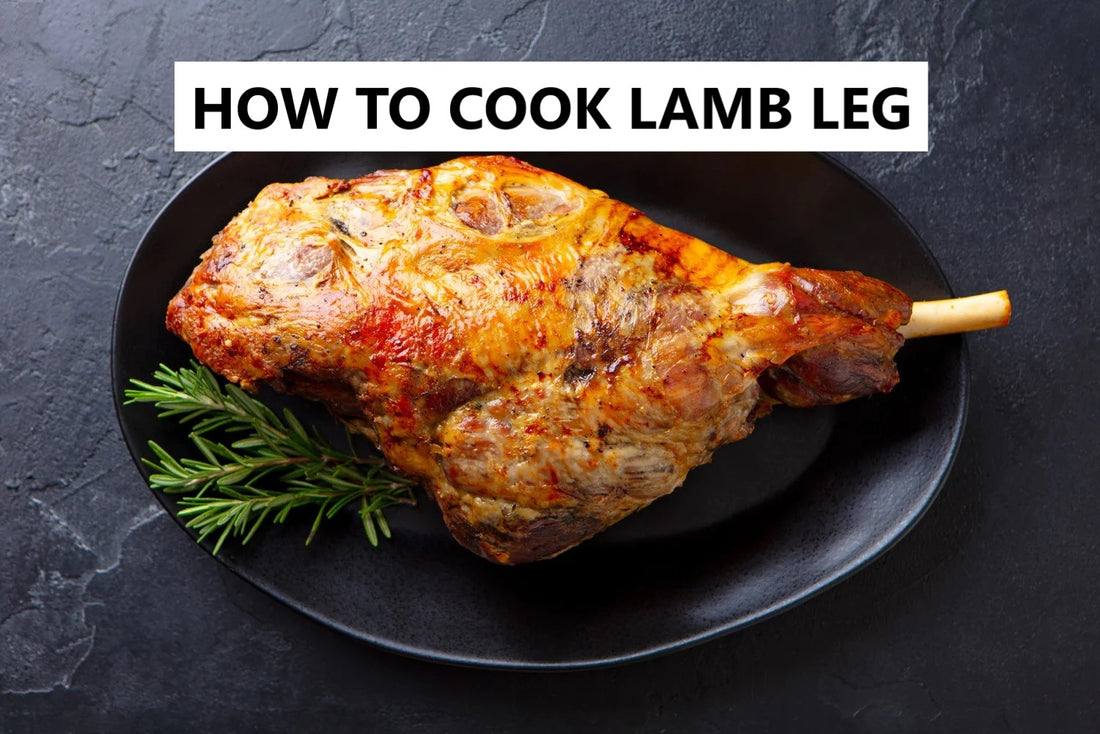 A whole leg of lamb is a delicious, impressive main course for any special occasion. It is a large, impressive piece of meat, relatively simple to cook, and a versatile dish that can be served with a variety of sides, which can be tailored to suit your guests preferences. We think a whole lamb leg is a great choice for your next get together, so we've put together a few key steps for you to follow to ensure that your lamb is cooked to perfection, and leaves your guests with delicious memories and satisfied appetites.
Is it better to cook lamb slow or fast?
Large lamb joints, like the leg and shoulder, and smaller lamb cuts like lamb shank, are usually best cooked slow. Lamb can contain more fat that other meats and so slowing cooking times and lower temperatures are great for rendering the fat out the meat, and also helps to keep the meat moist and juicy. Small joints and more tender cuts like lamb loin, or lamb steaks/chops are usually best cooked more quickly to a medium rare finish, as they may become dry and tough when over cooked.
Why is lamb served at Easter?
There are a few reasons why lamb is often served at Easter. First, lamb is a symbol of sacrifice. In the Bible, Jesus is referred to as the "Lamb of God" who was sacrificed for the sins of humanity. This makes lamb a fitting dish to serve at Easter, which celebrates the resurrection. Secondly, lamb is a springtime food. Easter is a spring holiday, and lamb is a meat that is often associated with springtime. This is because lambs are born in the spring, and their meat is considered to be particularly tender and flavourful at this time of year. Finally, lamb is simply a delicious and versatile meat that can be prepared in many different ways, which can be prepared to suit the tastes of everyone at the table.
Choose the right cut of lamb.
A bone-in leg of lamb is the most traditional choice, but you can also use a boneless leg of lamb or a shoulder roast.
How to cook lamb leg
Ingredients
1 tbsp olive oil

1 tsp salt

1/2 tsp black pepper

1/2 tsp garlic powder

1/2 tsp onion powder

1/4 tsp dried rosemary

1/4 tsp dried thyme
Method
Preheat oven to gas mark 3 / 160C / 140C fan / 325F.

Trim any excess fat from the lamb.

In a small bowl, combine the olive oil, salt, pepper, garlic powder, onion powder, rosemary, and thyme into a paste.

Rub the mixture all over the lamb.

Place the lamb in a roasting pan and roast for 2 1/2 to 3 hours, or until the internal temperature reaches 65C / 145F for medium rare, or up to 75C / 168F for those who prefer their lamb well done.

Remove the lamb from the oven and let it rest for a good 15 minutes before carving.

Serve with your favourite sides.
Tips
Here are some additional tips for cooking a whole leg of lamb:
Use a meat thermometer. To make sure that the lamb is cooked evenly, we would always recommend using a meat thermometer to check the internal temperature.
Stuff your leam. If you want to add a little extra flavour, you can stuff the lamb with herbs and spices before roasting. Or, if you aren't comfortable stuffing your lamb leg, you could cook the lamb on a bed of your favourite herbs and spices instead.
Trim excess fat. Trim any excess fat from the lamb before cooking, but don't trim it all. We need some fat to render through the meat to keep it juicy.
Always let the your meat rest before carving. After roasting, remove the lamb from the oven and let it rest for at least 15 minutes before carving. This will allow the juices to redistribute throughout the meat, resulting in a more tender and juicy roast.
Carve the lamb against the grain. Carving the lamb against the grain will help to make the meat more tender. To do this, slice the lamb across the front of the leg, perpendicular to the direction of the bone.
Serve the lamb with your favourite sides. Roasted lamb is a versatile dish that can be served with a variety of sides. Some popular choices include roasted vegetables, potatoes, or rice.

Simple Lamb Marinade
Marinating the lamb for a few hours before cooking will help to add flavour and keep the meat moist. You can use a simple marinade of olive oil, lemon juice, herbs, and spices. Here is a recipe for a simple marinade that you can use to flavour your lamb:
Ingredients
1/4 cup olive oil
1/4 cup lemon juice
1 tbsp dried rosemary
1 tbsp dried thyme
1 tsp salt
1/2 tsp black pepper
Instructions
In a small bowl, combine all of the ingredients.
Brush the marinade all over the lamb.
Cover and refrigerate for at least 2 hours, or overnight.
Roast the lamb according to the instructions above.
I hope these tips help you to cook a delicious and impressive whole leg of lamb! Let us know how to get on in the comments below! Enjoy!