How to Cook Tomahawk Steak
It can be a bit overwhelming, intimidating even, cooking a high quality piece of beef like a tomahawk steak, but fear not, the True Bites butchers are here to help you cook the perfect tomahawk steak...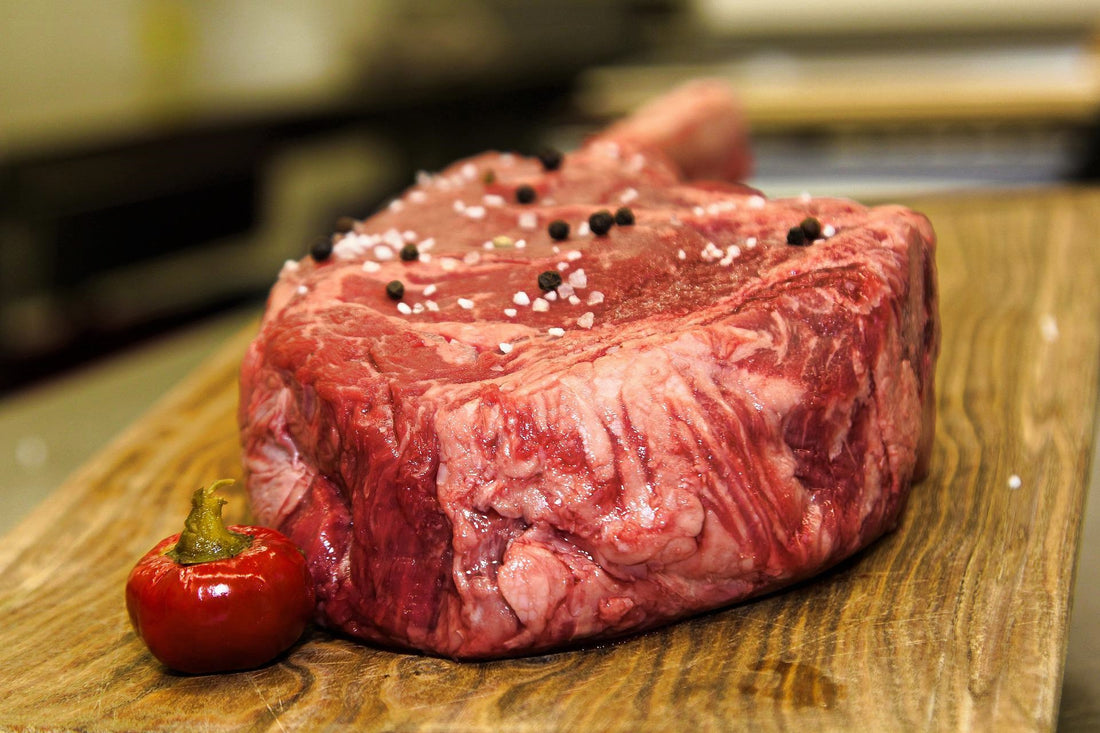 Prep: 5 Minutes
Cook: 30 Minutes
Total: 35 Minutes
Category: Main
Skill: easy
Cuisine: Steak
So, you've either already invested, or you're thinking about investing, in a high quality piece of beef like a tomahawk steak, but you're worried about messing it up, or not doing it justice, which is perfectly understandable. Many tomahawks are sold as sharing steaks, and can be anywhere from 900g to well over 1KG. We've even had tomahawks come in at 1.50KG's, so they can be pretty intimidating to cook. They're not like frying a sirloin, or ribeye steak that's for certain. Having said that, they really aren't difficult to get right at home, and they really are worth it. Tucking into a beautiful piece of beef like that at home will have you feeling like you've been to a real top quality restaurant. 
What is Tomahawk Steak?
The tomahawk is a rib steak, cut from the fore-rib and with the centre rib bone left in. The rib bone is left as long as possible and French trimmed for presentation. This is what gives the tomahawk it's unique appearance, making it a very memorable dining experience and also one which you'll want to share with your friends. Hence their popularity on social media. Much like a ribeye, the tomahawk is well marbled, with a generous amount of inner fat, giving it a real delicious depth of flavour.  
Is tomahawk steak hard to cook?
Cooking a tomahawk is a little different to frying a ribeye, or a sirloin for example, but really not that difficult. Due to the thickness of the steak, you can't cook the whole thing in a frying pan, or on a skillet, from start to finish. You should first sear the steak in a pan, or on a skillet, and then finish cooking in an oven, or indirectly on a barbecue until they reach temperature.
What is the best way to cook tomahawk?
There's a few schools of thought on this, such as reverse searing, and low and slow cooking, but for me, I like to stick to the tried and tested. First sear your steak in a hot frying pan, or skillet, and then finish it off in the oven until you reach the desired internal temperature. It's usually best practice to wrap the exposed bone in foil as well, to avoid charring. 
How long does it take to cook a tomahawk steak?
Depending on the thickness of the steak, and preferred cooking method, it will take somewhere between 30 and 60 minutes. A 1.20KG tomahawk, around 2 inches thick, cooked to medium-rare (around 57C), will take around 30-40 minutes in an oven set at gas mark 1/140C/120C.
Ingredients
Method
Remove your tomahawk steak from the fridge and allow your steak to come up to room temperature.

Pre-heat your frying pan, or skillet to a high heat, and your oven to around gas mark 1/140C/120C fan.

Wrap the expose bone in foil to avoid it charring in the oven.

Salt your steak generously right before adding it to the pan to sear.

Sear your steak on all sides for around 5 minutes per side, or until a nice crust has formed.

Place your steak on a baking sheet and add to the oven for about 30-40 minutes, or until you reach the desired internal temperature. 52C for rare, 57C for medium-rare, or 63C for medium. For best results, we really recommend using a meat thermometer at this point.

Once you've hit your desired internal temperature, remove your steak from the oven, wrap it in foil, and leave to rest on a warm plate for around 5-10 minutes.
FAQ's