A whole pork butt can be an intimidating cut to try and cook, especially given their reverence in the bbq world, and especially if you are new to cooking low and slow on the barbecue. With this in mind, we are here to offer some assistance on how to smoke a pork butt on a weber kettle bbq...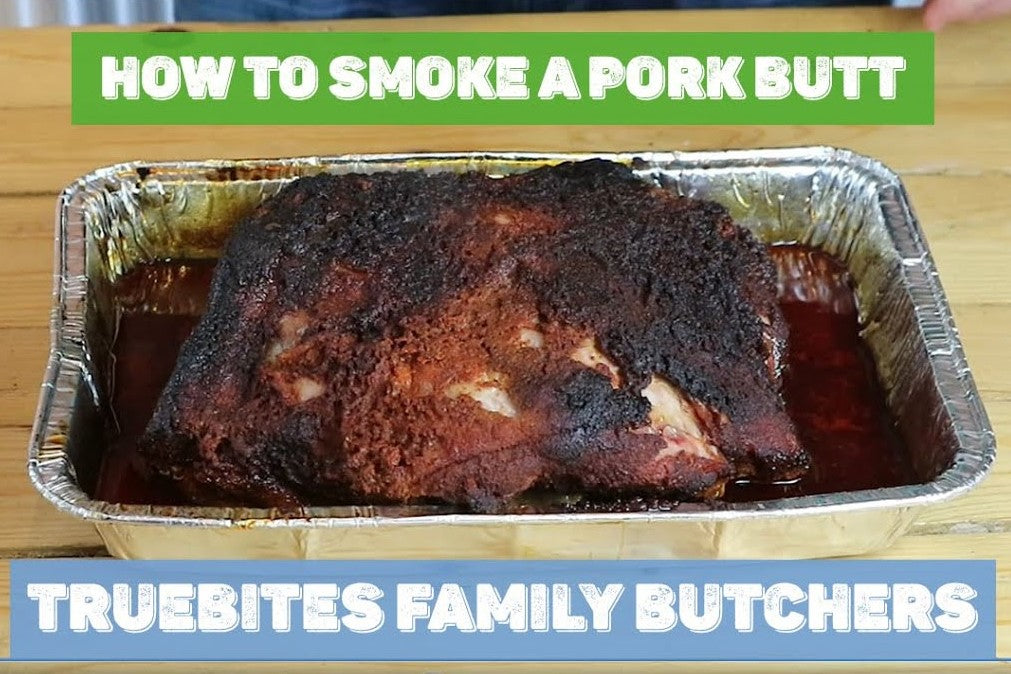 Prep: 5 Minutes
Cook: 7 Hours
Total: 7 Hours and 5 Minutes
Category: Barbecue
Skill: advanced beginner
Cuisine: American
Pork butt is an increasingly popular cut of pork, mainly due to it's popularity in BBQ circuits in the USA. It's suitability to long cooks makes it ideal for smoking and creating incredibly delicious pulled pork, but it can be a little intimidating to cook, especially if you're new to cooking low and slow on a smoker, or barbecue. 
What is Pork Butt?
As we outlined in our previous article entitle 'What is Pork Butt?', the butt, despite what you might think, actually comes from the shoulder of the pig. All bones are removed apart from the shoulder-blade, which is left in, meaning it's technically a 'bone in' cut. The shoulder-blade is long and flat and works brilliantly to help evenly distribute the heat throughout the meat while cooking. This is what gives the butt it's characteristic edge for long cooks at lower temperatures. 
For a more detailed description, see our article entitled 'What is Pork Butt?'.
How to Smoke a Pork Butt Video
Video Description
Matt smokes one of our True Bites Whole Pork Butt's for around 7 hours @ 110-120C on his Weber original kettle barbecue, using a mix of weber briquettes, lump wood charcoal, and oak chunk. We used a Meater probe and app to monitor temperature. Wrapped the pork at 60C, and finished cooking at 92C. Left to rest for 20 minutes before pulling.
Links
Whole Pork Butt: https://www.truebites.co.uk/products/...
Pork Rub Recipe: https://www.truebites.co.uk/blogs/rec...
Meater Probe: https://meater.com/
Ingredients
1 x simple pork rub

, or substitute for your favourite pork dry rub.

100g butter.

2 tbsp honey.

Apple Juice

, for spritzing.
Method
Preheat your BBQ/smoker to around 110-120C.

Remove the rind from the pork carefully, using a sharp knife.

Rub the pork all over with the Simple Pork Rub, or your choice of pork dry rubs, and leave to stand for 10-20 minutes to allow the pork to reach room temperature.

Place the pork in the BBQ/smoker uncovered and cook at around 110-120C for 4-5 hours, or until the internal temperature reaches 60C. Spritz the pork every couple of hours with the apple juice using a spray bottle to keep the pork moist and add a sweet caramelised outer later.

Once the internal temperature of the pork hits 60C, remove from the BBQ/smoker and place the pork in a tray. Add some butter and honey to the top, and bottom of the pork, and some more dry rub on the top, if you wish. Add a few splashes of the apple juice to the tray, cover fully with foil, and return to the BBQ/smoker.

Cook for another 2-3 hours, or until the internal temperature of the pork reaches a minimum of 92C.

Leave to rest for at least 20-30 minutes before slicing, or shredding into pulled pork.

Serve on brioche buns with your favourite barbecue sauce.
Regular price

From £19.99

Regular price

Sale price

From £19.99

Unit price

per