A meaty British classic made with Brewdog Punk IPA ale.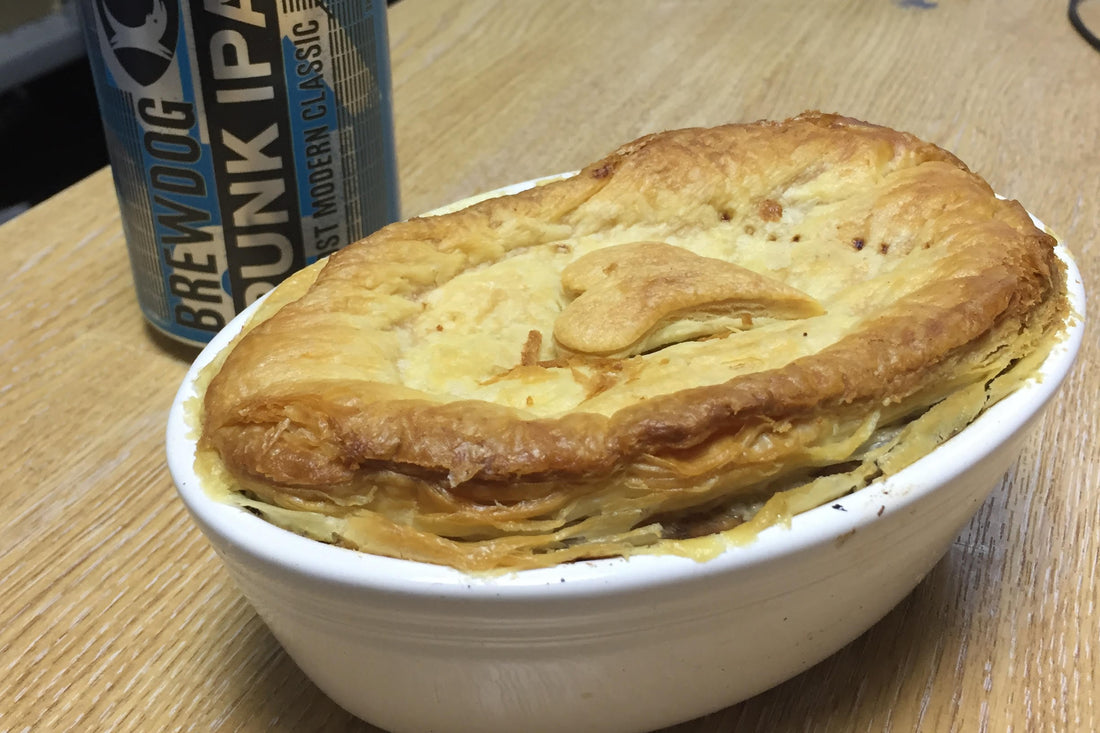 Prep: 20 Minutes
Cook: 120 Minutes
Total: 140 Minutes
Category: dinner
Skill: easy
Cuisine: British
This recipe for a classic meaty British pie was inspired by my #BrewdogAirlines trip to the Brewdog brewery in Ohio earlier this year. I quite like the beer. Shirley developed the recipe for British pie week, although we are a week or so late getting it on the blog. It's the thought that counts, right? Or maybe we're just VERY early for next year! Shirley regards this one as a work in progress, as she originally wanted to make a fully encased pastry pie, but ended up just using a puff pastry lid. At our last tea break Dennis was arguing that the recipe was perfect, but he'd generally argue about a fly crawling up the wall to be honest. And being married to Shirley he has to say that doesn't he? Anyway, it's a classic, hearty steak and ale pie, with a delicious Brewdog twist. Enjoy, and remember to let us know what you think in the comments below. We love to hear your feedback...
Ingredients
2 tbs olive oil.

3 medium onions, sliced.

2 garlic cloves, crushed.

2 carrots, peeled and diced.

300g mushrooms, sliced.

2 x 330ml cans of Brewdog Punk IPA.

350ml of beef stock.

2 tbs tomato puree.

Large pinch of dried thyme (or 3/4 fresh sprigs).

Salt and pepper.

2 tbs cornflour mixed with small amount of cold water to form a paste.

1 packet of ready made puff pastry.

1 medium egg, beaten, for glazing.
Method
Heat 1 tbs of olive oil in a frying pan and fry the onions until soft.

Add the garlic and mushrooms and fry for another 2 minutes.

Transfer the onions, mushrooms and garlic into a casserole dish.

Add another 1 tbs of olive oil to the frying pan and fry the diced beef until it is browned all over and add that to the casserole dish. You might have to do this in batches, depending on how big your frying pan is.

Add the carrots, ale, beef stock, tomato puree, thyme and a pinch of salt and pepper to the casserole dish and stir together.

Cover with a lid and place in a pre-heated oven at gas mark 4 and cook for around 1 and a half to 2 hours until the meat is tender and starts to fall apart.

When the meat is tender, add the cornflour paste and continue cooking until the gravy has thickened.

Remove from the oven and spoon into a large pie dish, or several individual dishes if preferred.

Roll out the puff pastry so that it is slighter bigger than you dish(es).

Brush the edge of the dish(es) with beaten egg and place the puff pastry lid on top making sure to seal down the edges of the pie(s).

Glaze the pie(s) with the remaining beaten egg.

Place in the oven on gas mark 6 for 20-30 minutes or until the pastry is golden brown.

Remove from the oven and leave to rest for 5 minutes before serving.

Enjoy!
Tips
Serve with veg and sweet potato mash.
I love this recipe with Punk IPA, but feel free to switch up the choice of ale, with any of your favourites. 
The filling also cooks well in a slow cooker if you've got one.