Super quick, super tasty, tried and tested slow cooker beef shin that the family will be raving about for months to come.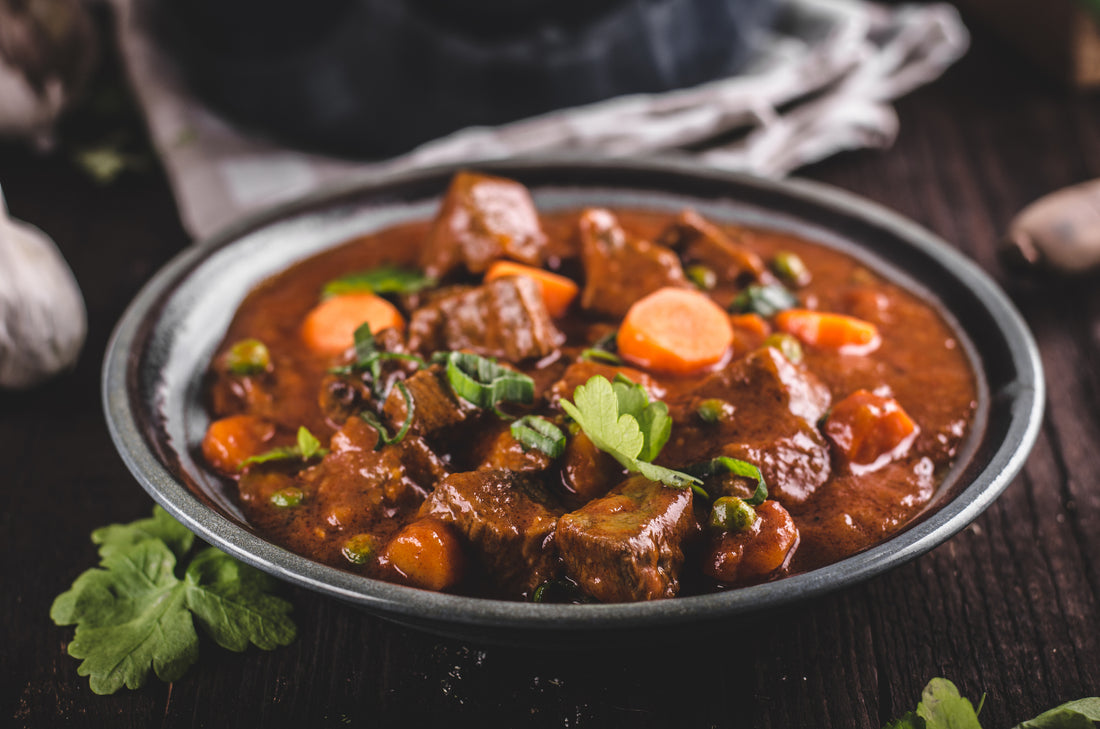 Prep: 5 Minutes
Cook: 260 Minutes
Total: 265 Minutes
Category: dinner
Skill: easy
Cuisine: British
This one's a real winter warmer. Based on our beef casserole recipe, but slightly adapted to use beef shin in the slow cooker. A real simple recipe, simple to cook, and from a few tasty ingredients. Every time I cook this I'm reminded how, sometimes, keeping things simple really is the best way. Serve it with chunks of sliced crusty bread, with mash, with or without dumplings, however you wish really. In all honestly, whatever you serve it with you're really going to be blown away by how tasty a simple stew/casserole can be. 
Is beef shin tough or tender
Beef shin contains a lot of connective tissue, as it's a well worked muscle during the animals life, and thus can be tough if it's not cooked correctly. That being said, it really packs a lovely deep rich flavour, and when cooked low and slow, really can be melt in the mouth tender. 
Can you slow cook any cut of beef
No, slow cooking is much more suited to cuts of beef with more fat and connective tissue, such as chuck, shin, and even brisket. These well worked muscles have a great depth of flavour and can be cooked for much longer times without falling apart and becoming shredded beef. The fat and collagen within the meat also renders during longer cooking times and helps stop the meat drying up. As a general rule of thumb, cheaper cuts, which are tough when quickly fried, are ideal for slow cooking.
Can you put raw beef in slow cooker
It's usually better for taste to brown the meat off first in a frying pan, and seal the flavours in your beef, but it's perfectly safe to put raw meat in a slow cooker.
Ingredients
Vegetable oil

4 tbsp flour

4 tbsp tomato puree

500g celery, diced

500g parsnips, peeled and diced

500g onions, peeled and quartered

500g carrots, peeled and cut into chunks

1 litre beef stock

Salt & pepper to taste
Method
Add 1 tbsp of vegetable oil to a large frying pan over a high heat. Once the pan is hot, add the beef shin and seal on all sides. Once browned, remove the meat with a slotted spoon and place in the slow cooker.

Lightly brown the celery, then the parsnips, then the onions, then the carrots in the frying pan, and place each in the slow cooker with the meat.

Set the slow cooker to low heat, then add the tomato puree, the stock, and salt and pepper to your taste.

Stir in the flour.

Pop the lid on and cook for at least 4 hours, but for best results, cook for 6-8 hours, or until the meat is really soft and tender.
Tips
If you're running short of time, just throw all the ingredients in the slow cooker and turn it on. It won't be quite as good, but it'll still be a damn tasty meal.