Roast Gammon with a Brown Sugar Glaze
A salty, yet sticky sweet, roast gammon recipe, perfect for a gammon slipper, or corner joint. A super simple recipe that even works great in the slow cooker.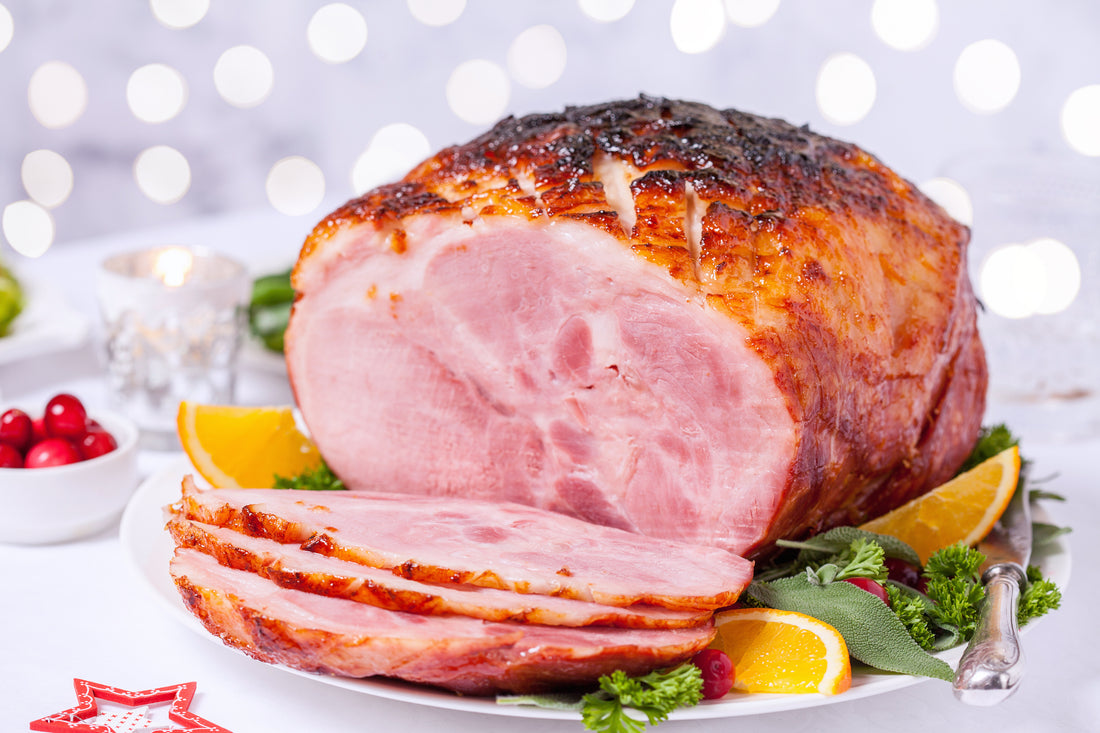 Prep: 5 Minutes
Cook: 120 Minutes
Total: 125 Minutes
Category: dinner
Skill: easy
Cuisine: British
Is it possible that you've forgotten just how great gammon can be? Gammon is delicious served hot with creamy mash potato, or cold on a sandwich, and is a really versatile meal time choice, that's actually very simple to cook. As you'll see with our 3 ingredient recipe, gammon doesn't necessarily need complicated glazes, or soaking in a bucket(?!), to be a really great meal.
Cooking your own gammon joint instead of buying pre-cooked ham can also be very cost effective. In fact many of our customers like to buy a gammon slipper, or corning joint to cook on a weekend and use for dinners or sandwiches throughout the week. 
Can I cook gammon in the slow cooker?
Yes, cooking gammon in the slow cooker is great, especially if you've got a hectic day ahead, and is really simple. Just prepare the joint in the morning and leave on a low heat to cook for several hours if you have to. Once it's cooked, if you still want to add the brown sugar glaze, just remove the gammon from the slow cooker, add the brown sugar, and finish the gammon off in the cooker at gas mark 6 / 200C / 180C fan for 20 minutes. This will give you that sticky, caramelised finish, which is really worth the extra effort, in my opinion. 
Do I need to add water to gammon?
Gammon can be very lean, so you should add some liquid to in order to avoid the meat becoming dry. You can add plain water, or water with herbs and spices, but I would always recommend using a fruit juice, such as apple, pineapple, or even orange. This helps keep the joint moist and impart some flavour into the meat, but, due to the acidic nature of fruit juice, also helps to tenderise the joint as well. If you're looking for something a bit more exciting, you could try using your favourite cider instead of the water, or fruit juice. 
Ingredients
60g brown Sugar

250ml Apple Juice
Method
Set the oven to pre-heat at gas mark 2 / 150C / 130C fan.

Place the gammon in a lidded dish and brush with the apple 

juice, making sure to cover the whole joint. Let it soak in for a few minutes and then give it another brush with the juice.
Add add remaining juice and a splash of water (around 200ml) to the bottom of the dish. This will stop the meat from sticking and also keep the meat juicy and tender.
Add the dish to the oven and cook for 2 hours. 

Around 20 minutes before the end of cooking time, remove from the oven and sprinkle the brown sugar over the joint.

Place the joint back in the oven, but this time uncovered, on gas mark 3 / 160C / 140C fan for 20 minutes, or until the sugar has caramelised and gone sticky.
FAQ's
What if I don't have a deep enough lidded dish?
You can place the meat in a roasting dish and cover the meat with kitchen foil instead. Be sure to wrap the gammon loosely though, else the foil could stick to your meat, which will be very annoying when it comes time to add the brown sugar glaze. Also, if you're using foil, it's a good idea to periodically check that there's enough water in the roasting dish, as you'll lose moisture through evaporation whilst cooking. If the water levels have reduced, just pop some more in. 
Should I soak gammon before cooking?
Soaking gammon is a way of removing any excess salt in the meat, and is not usually necessary these days. Most gammon is produced to a very particular specification, which has limits on the amount of salt that can be added to the meat. All the gammon we sell here at True Bites is mild cured, unless explicitly stated, and does not require soaking.
That being said, there can be exceptions, so if you're using a home cured gammon, or specialty cure from you local butcher, you should ask them about salt content, as some cures can be stronger than others.
Do you have to boil gammon?
Although gammon is traditionally boiled, that's not to say boiling is the only way to cook gammon. It can be cooked a number of ways, including boiling, roasting, smoked, and even slow cooked. 
Is it better to boil or roast a gammon joint?
It totally depends what you are looking for. If you're seeking that traditional gammon taste, without any added flavours or glazes, then you're probably better off boiling it. If you're looking for a gammon with a sticky, sweet glaze than you'll need to roast the gammon for at least the last 20 minutes. 
What goes with roast gammon?
Gammon can be served with any number of things including roasted/steamed vegetables, sweet potatoes, cabbage, egg and chips, or of course, a nice creamy mash potato. If you're looking for the perfect gammon condiment, then look no further than cheese sauce.