Celebrate the humble pie with this unusual pork and ginger beer recipe. This recipe plays on the delicious combination of pork and ginger, with the sugars of the beer really adding a mouth-watering sweetness to the gravy.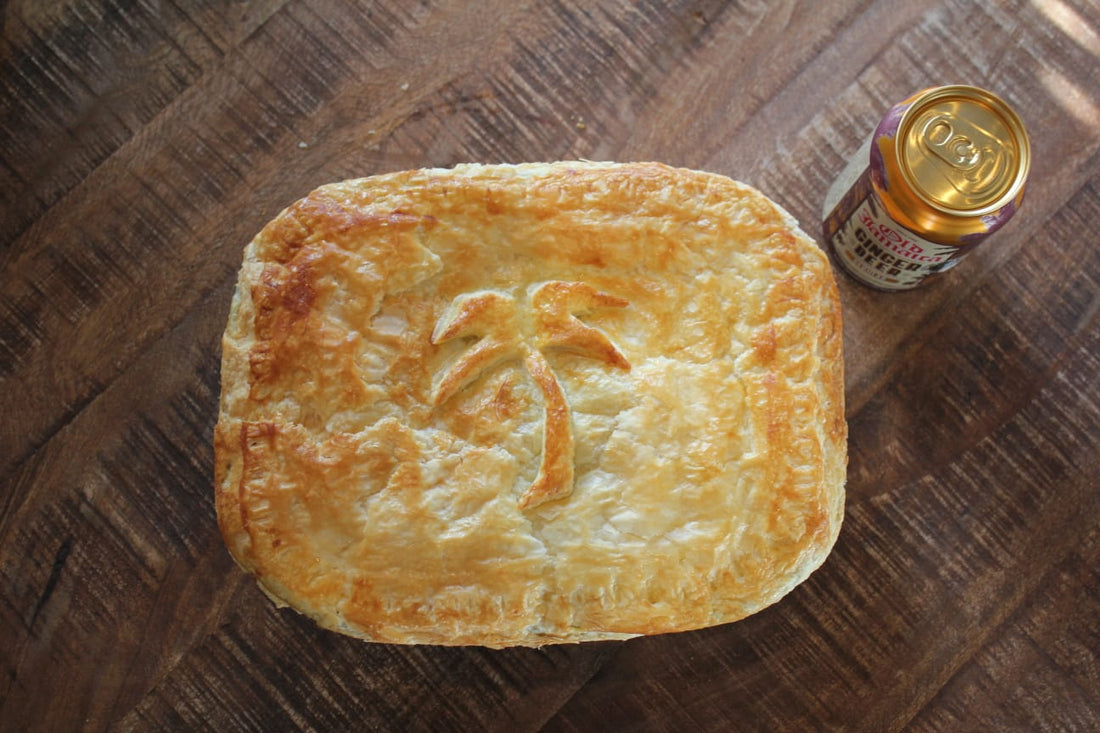 Prep: 5 Minutes
Cook: 260 Minutes
Total: 265 Minutes
Category: dinner
Skill: easy
Cuisine: British
This unusual pork and ginger beer pie recipe was dreamt up by Shirley and I after a friend of ours requested a new pie recipe for British Pie Week. The twist was that the recipe had to be inspired by an Old Jamaica drink. We thought this idea was perfect for us, especially being as our head butcher Dennis is a massive ginger beer fan. We did a couple of recipe experiments, including a pulled pork one, which I will definitely be exploring further down the road, but this one with diced pork seemed to work out better for a pie. Although a pulled pork pie did seem like an incredible idea, we weren't sure the world was ready for it just yet. Anyway, the sweetness of the beer really does help to create a delicious, sticky gravy and the ginger flavour really does punch through. 
It might take a bit of time to cook, but it's not too much of a complicated dish, in fact it's pretty simple to make, and what's great is you can make a batch, freeze them down, and use them as and when you need them. We do love a good batch cook here at HQ!
It's also worth remembering that the key to a really great tasting dish is great quality ingredients, so if you can, please do try and our quality British pork, you really will taste the difference. 
Ingredients
320g puff pastry sheet

Olive oil

2 onions (diced)

3 carrots (diced)

250g sweet potato (diced)

3 tsp harissa paste

1/2 tsp ground allspice

1 tbsp cornflour

400g tinned of chopped tomatoes

150ml Old Jamaica ginger beer

Salt and pepper to taste
Method
Fry the onions until soft and then place them in a slow cooker, or deep oven dish, with the sweet potatoes and carrots.

Seal the pork in a hot pan, taking care to brown it on all sides, then add it to the onions etc.

Add the harissa paste and the allspice.

Mix the cornflour in to a paste with a little of the ginger beer and add to a small saucepan together with the tin of tomatoes and the rest of the ginger beer.

Gently heat the mixture until it thickens and then add it to the pork and vegetable mixture. 

Put a lid on the mixture and cook in a pre-heated oven on g

as mark 4 / 180C / 160C fan

 for approximately 4 hours or until the meat is nice and tender.

Once cooked, add the mixture to a large pie dish, or several small pie dishes, and cover with the top with puff pastry.

Finish cooking by placing in a pre-heated oven on gas mark 5 / 190C / 170C fan for approximately 20 minutes or until the pastry is nicely browned.
FAQ's
Regular price

From £19.99

Regular price

Sale price

From £19.99

Unit price

per