Sliced Pork Belly with Orange & Maple Syrup
Delicious sweet and sticky grilled pork belly with an orange & maple syrup marinade.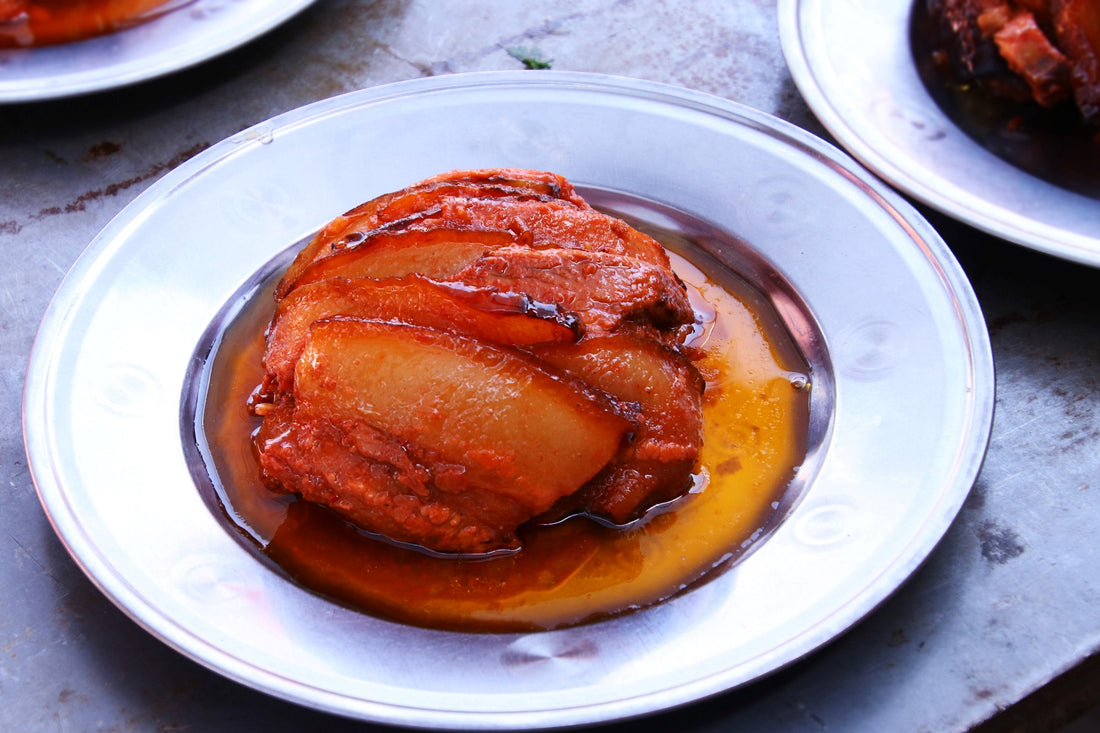 Prep: 65 Minutes
Cook: 20 Minutes
Total: 85 Minutes
Category: main
Skill: easy
Cuisine: Chinese
Pork belly is a delicious cut or pork, with a great depth of flavour, which is usually cooked low and slow in order to break down some of the more fibrous tissue and create a nice and tender result. This is great, but it often takes a long long time to render the meat down. A great way to reduce the length of time needed to cook your pork belly is to slice, or have your it sliced, into thin strips, which creates a much more tender eating experience, and also to use a marinade, which helps to break down some of the toughness of the meat prior to cooking. This recipe uses a combination of both, so it's belt and braces for a delicious tender pork belly.
In my opinion pork belly is always at its best when it is served with a sweet and sticky glaze or marinade, and, as you probably know from your local Chinese take away, an orange sauce tends to go really well with pork. So that's the route we've decided to go with this recipe, and to be fair, this one really does ticks all of my pork belly boxes; it's sweet, and it's sticky. Job done. Give it a go and let us know what you think in the comments below. 
Ingredients
1.00KG pork belly strips

3 tbsp orange marmalade

3 tbsp maple syrup

200ml orange juice
Method
Mix the marmalade, maple syrup and orange juice together in a large bowl.

Remove the rind with a sharp knife.

Add the belly strips to the bowl and marinade for at least 1 hour.

Cook the belly slices under a medium-high pre heated grill for around 20 minutes, turning and basting every 5 minutes or so.

Take the remaining marinade, place in a saucepan and rapidly boil to reduce to a thicker sauce.

Serve the belly slices drizzled with the sauce.
Tips
Use the rind you removed to create delicious crackling, by blasting it in a pre-heated oven (or under the grill).
Regular price

From £19.99

Regular price

Sale price

From £19.99

Unit price

per