BBQ Pulled Beef Brisket Recipe
A slow roasted pulled beef brisket recipe with beef dry rub and homemade BBQ sauce.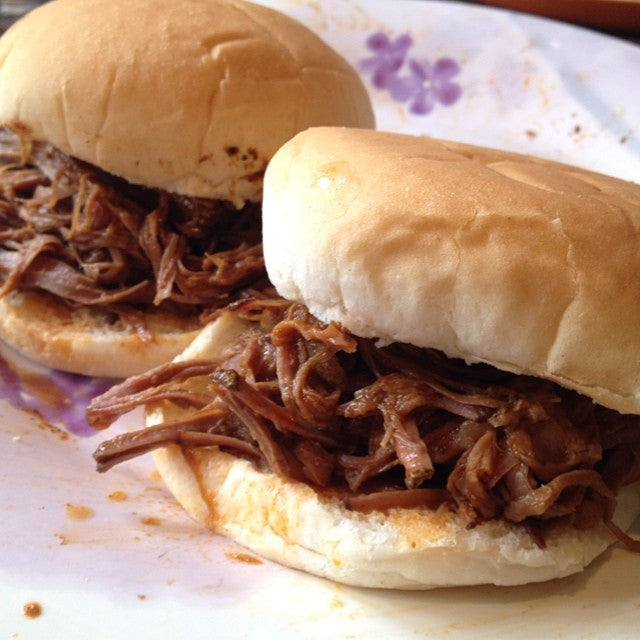 A slow roasted pulled beef brisket recipe with beef dry rub and homemade BBQ sauce.
What You'll Need
For the BBQ Sauce:
1 tbs olive oil

1 Small onion, finely chopped

1 garlic clove, crushed

100 ml tomato ketchup

100 ml passatta

35 ml Worcestershire sauce

25 ml lemon juice

1 tbs brown sugar

1 tsp malt vinegar

1 tsp French mustard

½ tsp chilli flakes

½ tsp Tabasco sauce

½ tsp dried thyme
For the Rub
1 tbs of chilli powder and mustard powder

½ tsp of paprika, ground cumin, garlic powder, ground black pepper and caster sugar

1 bay leaf, crushed.
Method
Make the rub by mixing all the ingredients together (we use a plastic bag and just shake them). Rub the mixture all over the beef and then place it to one side while you prepare the bbq sauce. Ideally you could leave the beef marinating in the rub for an hour or so.

Pre-heat the oven to 150C/130C fan/Gas Mark 2.

To make the BBQ Sauce firstly, h

eat the oil in a frying pan, then cook the onion and garlic for about 5 mins, until soft. Add the rest of the sauce ingredients to the pan and simmer gently for 20 mins. Then, use a food processor or blender to smooth the mixture.

In a large casserole dish, mix the beef stock and the bbq sauce mixture together.

Add the Brisket to the dish and place the lid on.

Cook for 4 – 5 hours, or until the meat is tender enough that it is beginning to fall apart.

Drain the liquid off the beef reserving it to use in a few minutes.

Pull the beef apart using a couple of forks and then add the liquid back in to your requirements depending on how much sauce you like on your meat.

Serve on fresh bread rolls with a side of your choice. 
Tips
If you don't want to/don't have time to make the BBQ sauce, you could always use around 180ml of your favourite shop brought variety.

Double the rub ingredients to make extra to be used for adding delicious flavour to any roasts or 

BBQ's

 you may be having in the future.

Reduce down some of the liquid you drained off the beef for a superb 

home-made

 BBQ sauce.