An easy to make slow cooker pulled pork recipe with gravy and stuffing.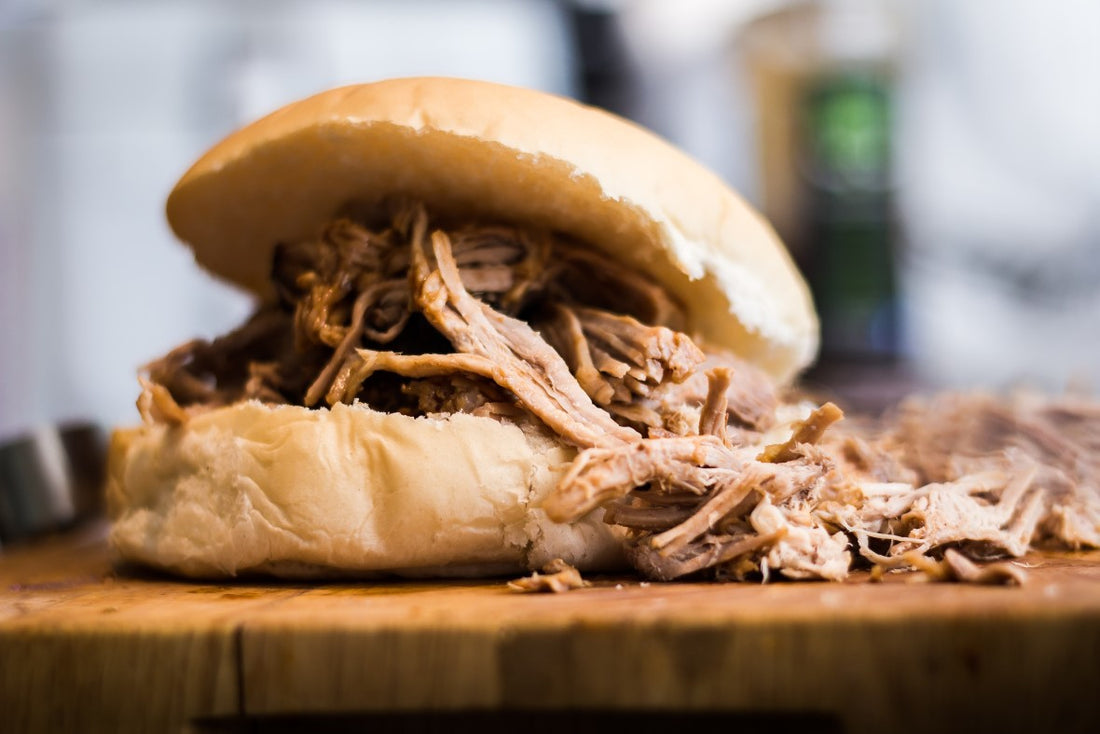 Prep: 5 Minutes
Cook: 360 Minutes
Total: 365 Minutes
Category: dinner
Skill: easy
Cuisine: American
Picture this; hot pulled pork, with stuffing and gravy, perhaps a dash of apple sauce, served on a fresh white cob, and maybe even a little side of crackling... It has to be one of the ultimate sandwiches, doesn't it? Anyway, my old man Dennis has been in the butchery game since he was like 5 years old, and he's basically mastered pulled pork. I say mastered, he actually likes to think he 'invented' pulled pork back in his youth (I'm surprised he can remember that far back). Well, that's the story he bores us with every time any of us mention pulled pork. I think he actually believes it as well. Anyway, most people think pulled pork originated in south USA, who'd have thought it was actually invented in Bushbury, Wolverhampton? The recipe is really easy, all it really takes is a bit of time, but trust me, it'll be worth the wait.
What is the best cut of meat for pulled pork?
The ideal cut for pulled pork is the shoulder. The shoulder muscles contain more fat and connective tissue than other leaner cuts, which means the shoulder is better suited to longer cooking times, as a long cooking process breaks down the tougher connective tissue, and at the same time the fat gives the meat a natural baste, which means the meat won't dry out.
Can you put raw pork in a slow cooker?
It's usually argued that it's better for taste to seal the meat off in a frying pan first, but it's perfectly safe to put raw pork directly in a slow cooker.
Does pulled pork in a slow cooker need liquid?
Fat and liquid will render our of your pork as it cooks, but it's good practice to put some liquid in with your pork, either stock, or water, in order to prevent your pork from drying out. An inch of liquid in the bottom should be plenty, and if it starts to dry up, you can always pop some more liquid in.
Why is my slow cooker pulled pork tough?
If your pulled pork is tough, basically, you need to cook it longer. The collagen and connective tissue in the meat, particularly if you're using shoulder, takes a long time to break down. 6-8 hours in the slow cooker is usually the sweet spot.
Ingredients
Salt and black pepper to taste

Beef stock cube
Method
Place the pork in a slow cooker, or deep casserole dish.

Add the beef stock cube to 500ml of hot water and add to the slow cooker.

Season with salt and pepper.

Cover and cook on medium (gas mark 1/140C/120C fan if you're using a casserole dish in the oven) for 6 hours, turning halfway through.

Remove the pork from the slow cooker, take off the rind and it set aside (we're going to make this into crackling).

Shred the pork using two forks. Return the pork to the slow cooker, add the stuffing and mix well.

Salt the rind generously and place it under a pre-heated grill set to high and cook for 2-3 minutes, or until the rind starts to bubble and go crispy.

Serve on fresh white bread rolls.
Tips
If the pulled pork seems too wet, just stir in more stuffing.
When you salt the rind for the crackling, if the rind isn't too hot, rub the salt in with your hands. I don't know the science, but it seems to make better crackling. 
Regular price

From £19.99

Regular price

Sale price

From £19.99

Unit price

per