This beef and bacon stew, based on a simple beef goulash recipe, but with added bacon, is one of Shirley's ingenious recipes. A hearty stew, perfect to warm the family during the winter months.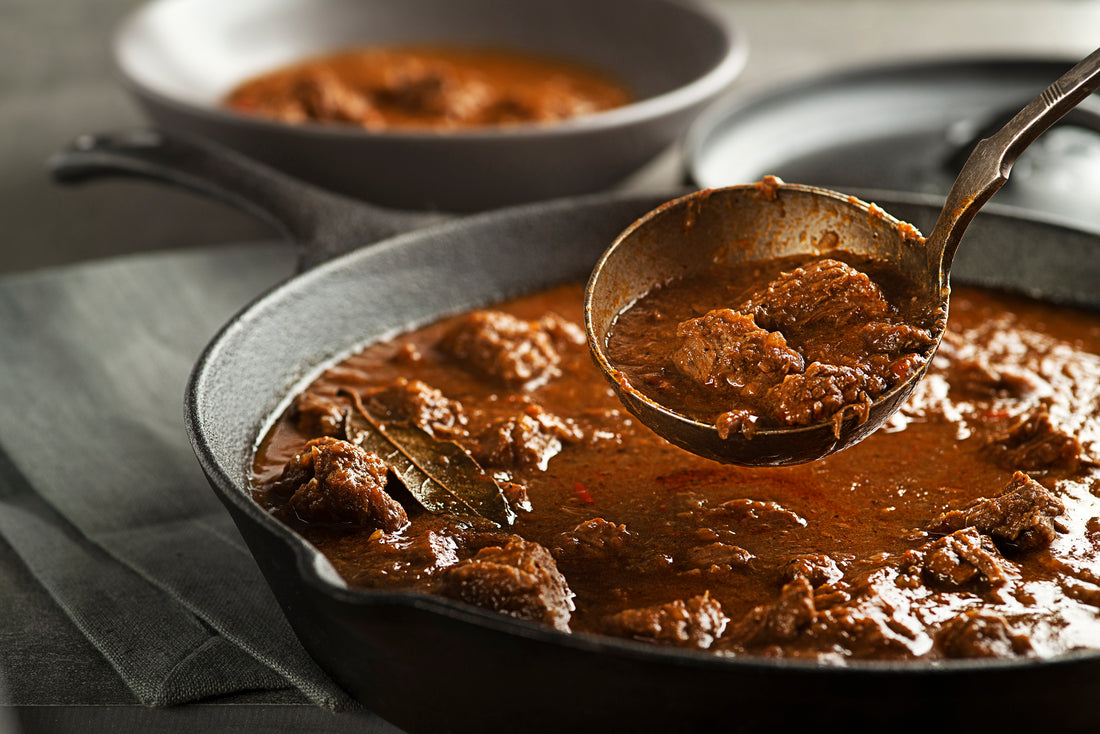 Prep: 5 Minutes
Cook: 150 Minutes
Total: 155 Minutes
Category: main
Skill: intermediate
Cuisine: Hungarian
Beef and bacon is an unusual combination, but one which we think should be used more, especially in stews where longer cooking times gives the flavours time to infuse. This recipe is one of Shirley's, we've classed it as a Hungarian recipe, mainly because the recipe is based on a simple beef goulash recipe, but as usual, Shirley has added her own ingenious twists and turns, and it's delicious. 
The great thing about this one is you can pop it all in the slow cooker (or on gas mark 1 in the cooker) and leave it to cook for hours if you want to, which also leaves the house smelling fantastic when you arrive home. If the stew starts to dry up, just add some more beef stock. A great recipe to serve with a chunk of crusty bread, but also works beautifully served with noodles, believe it or not. 
Ingredients
Salt & pepper

2 tbsp plain white flour

3 tbsp olive oil

700g onions (peeled and roughly chopped)

2 garlic cloves (peeled and crushed)

4 tbsp smoked paprika

400g (1 can) Peeled Plum Tomatoes with Herbs

300ml Beef Stock

Sour Cream and Chopped Parsley for garnish (optional)
Method
Toss the beef in seasoned flour to coat.

Heat 1 tbsp of the oil in a casserole dish and quickly fry the meat in small batches until sealed and browned on all sides. Remove and set aside.

Fry the onions in the casserole dish until they start to soften and turn golden. 

In a separate frying pan, fry the bacon on a high heat until crisped.

Add the beef and bacon to the onion in the casserole dish.

Stir in the garlic and paprika with the beef, onions and bacon. Cook for around 1 minute. 

Add the tomatoes and beef stock and leave to simmer.

Place the lid on the casserole dish and cook in the oven at 170C (325F, Gas mark 3) for around 2 - 2 and a half hours, or until the meat is tender.

To serve; stir in the sour cream and garnish with parsley (or just serve with crusty bread?)