Simple American Style Pancakes with Bacon
Get your taste-buds tingling with these salty and sweet simple American style pancakes. Enjoy these as a special indulgent breakfast, or a Shrove Tuesday treat.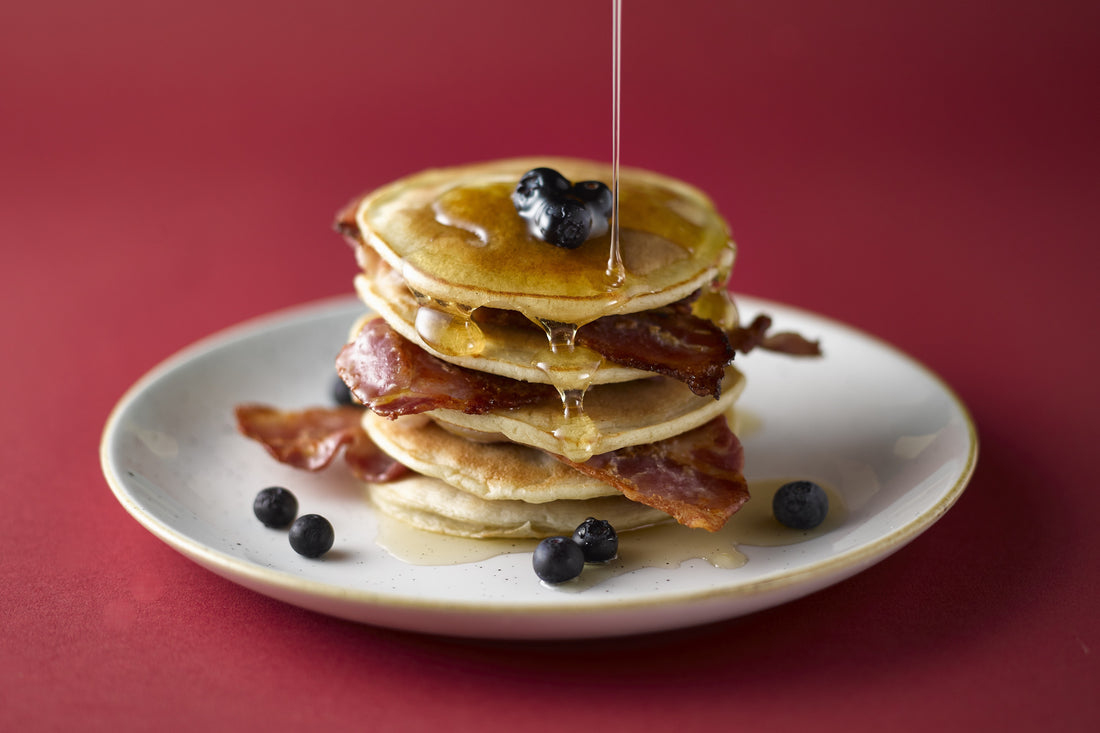 Prep: 5 Minutes
Cook: 10 Minutes
Total: 15 Minutes
Category: breakfast
Skill: easy
Cuisine: American
Ingredients
Maple syrup

200g plain flour

1 1/2 tsp baking powder

1 tbsp sugar

1 tsp vanilla essence

1 large egg

300ml milk
Method
Fry or grill the streaky bacon until crisp and set aside.

Add the flour, sugar, and baking powder to a bowl and mix.

Measure the milk into a jug, add the egg, and vanilla, and beat with a fork until mixed thoroughly.

Make a well in your flour bowl and slowly pour the wet ingredients into the bowl as you whisk. Whisk until the batter is smooth and lump free.

Heat a small amount of butter in a medium sized frying pan.

Add a small about of the batter to the pan. Keep your pancakes small (around 3-4 inches across) so you can stack a few up.

Cook each pancake on a moderate heat until golden brown on the underside and then, the fun bit, flip the pancake over and cook the other side until golden.

Stack 3 or 4 pancakes on a plate, add a couple of rashers of streaky bacon on top, and drizzle with maple syrup.

Enjoy!
Tips
Scatter a few blueberry's on top if you're feeling a little guilty. 
Regular price

£17.99

Sale price

From £3.69

Unit price

per