Minted Lamb Shanks Recipe
Simple to cook, slow roasted lamb shanks in minted gravy.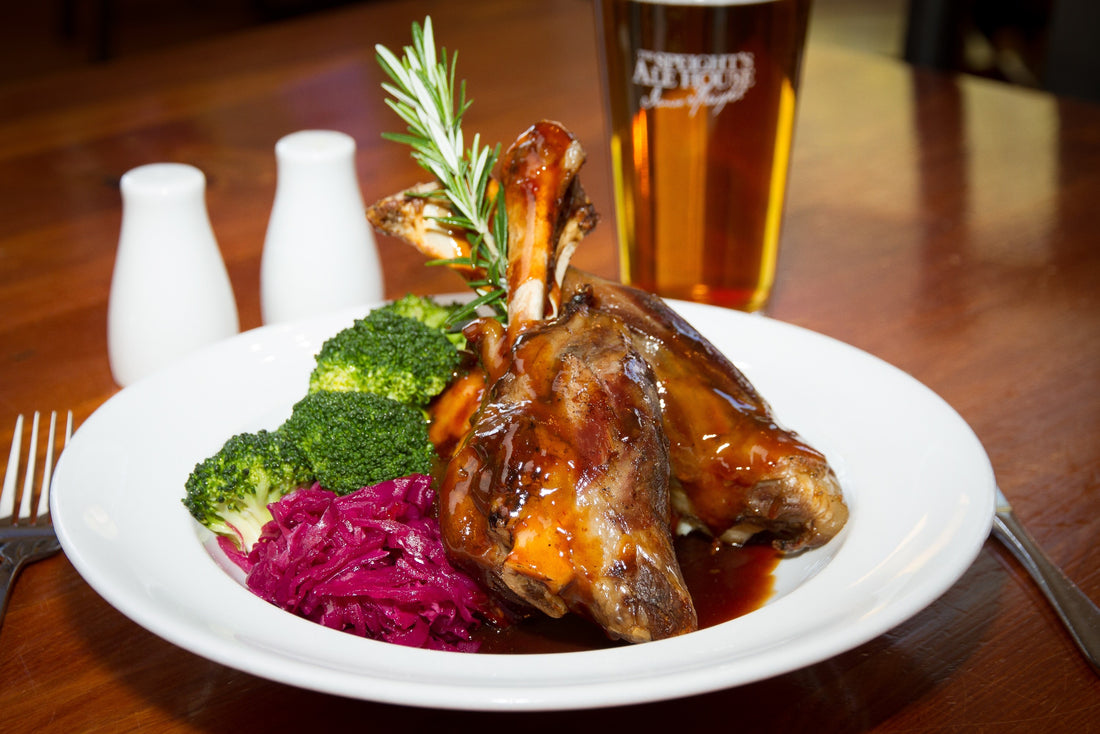 Prep: 5 Minutes
Cook: 120 Minutes
Total: 125 Minutes
Category: dinner
Skill: easy
Cuisine: British
This recipe for minted lamb shanks is another one of Shirley's own, which she regularly cooks for Dennis, me, and the rest of the family. She came up with the recipe because she prefers lamb shanks that are freshly cooked, with ingredients that she has sourced herself, rather than pre-cooked versions where she has no control over where the meat originated, or what other ingredients have been added. She certainly likes to do things her own way. The great thing about this recipe is how simple it is to cook, with so little preparation time required. It can even be prepared before work and left cooking all day (if you've got a slow cooker), which makes it ideal for a busy family like us. And, it's always nice to come home to the smell of something delicious in the oven.
It's also worth remembering that the key to a really great tasting dish is great quality ingredients, so if you can, please do try and our quality British lamb, you really will taste the difference. 
How long do lamb shanks take to cook
You're lamb shanks will be ready in around 2 hours, but if you want super tender, 'meat falling off the bone' lamb shanks then you could leave your shanks cooking for at least another 2-3 hours. Just check periodically that there is still plenty of liquid in with them to keep them from drying out. If they need more liquid, add some more gravy and/or mint sauce.
What to serve with minted lamb shanks
In all honestly, it's got to be mash potato, hasn't it? All that mint and lamb infused gravy will go absolutely perfectly with a homemade, creamy mash potato. You could go for a traditional white potato mash, or mix things up with some sweet potato, or a combination of the two? Whichever you choose, please use real butter, nothing else compares. As far as veg goes (yes, you need some veg, it's good for you), you can't go wrong with a few roasted carrots and a handful of steamed broccoli. Let's be honest, it'll all be soaked in that delicious minty gravy, so it's going to be delicious whatever it is.
Ingredients
300ml beef gravy

3 tsps concentrated mint sauce (or to taste)
Method
Preheat the oven to 200 degrees C (gas mark 6)

Place 2 fresh True Bites lamb shanks in a lidded ovenproof dish and place in the oven for approx 30 minutes.

Make your gravy and add the concentrated mint sauce to taste.

Remove dish from the oven and drain away any excess liquid that may have cooked out of the lamb shanks.

Add the minted gravy to the dish with the lamb shanks 

Lower the temperature of the oven to 150 degrees C/ Gas Mark 2 and cook for at least a further 90 minutes or until the shanks are tender. The meat should be starting to fall from the bone.
Tips
If you like it minty, just pop a load more mint sauce in, simple.
If you're serving more guests, then just throw in more lamb shanks (1 per adult).
FAQ's
Why are my lamb shanks tough?
If you're lamb shanks are tough, they need cooking longer. So long as there is plenty of liquid in with the shanks (to stop them drying out), you can cook them for anything up to 8 hours in a slow cooker, or 3-4 hours in the oven (depending on the setting).