Avoid the take away and cook your own quick, and healthy, Chinese style sweet and sour chicken at home.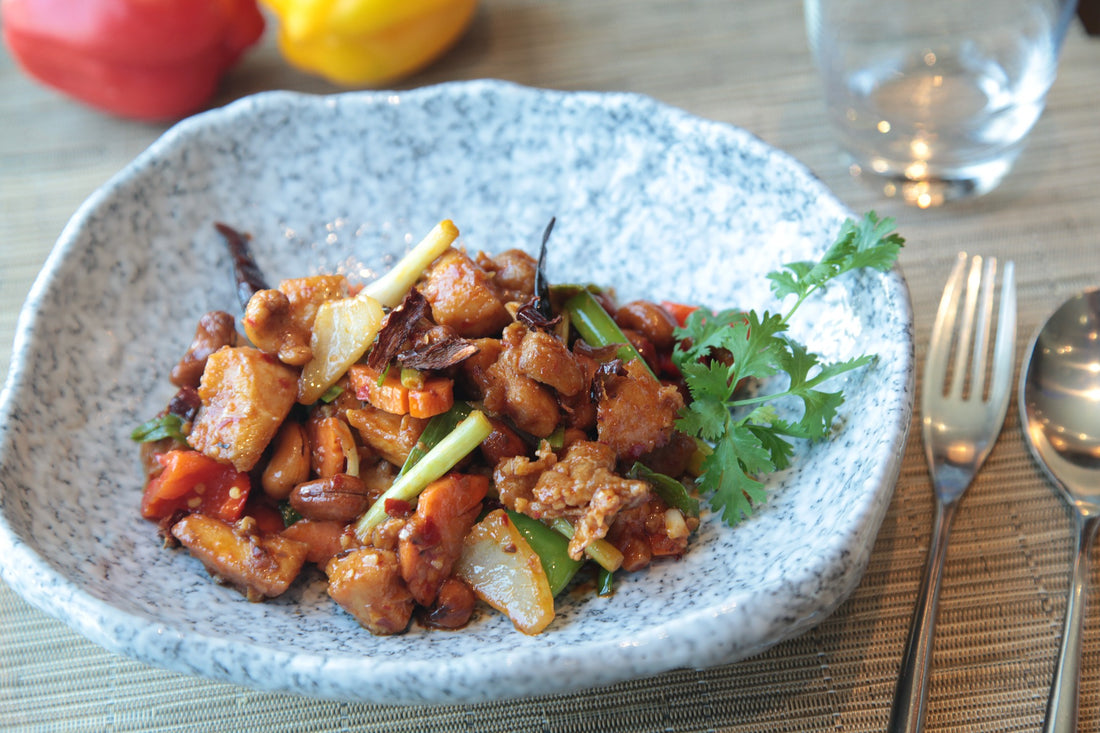 We all know that sweet and sour chicken is basically now a British staple. Is it even really Saturday night without a visit to the local Chinese for something sweet and sticky? No, except too many of those take-away's might leave your wallet looking thin, and your waistline, well, that's another story. Anyway, I love sweet and sour chicken, and it seems a shame to confine it to the every-once-in-a-while-treat from the Chinese, so I wanted to have a go at making a version you can cook at home, without the guilt. Also, cooking this at home means you can't be tempted by the added extras of a delicious Chinese take-away menu; chips, prawn toast, maybe even some ribs... It's just all too tempting. So in that respects, cooking at home is much better for your waistline. 
Ingredients
2 tbs toasted sesame oil

1 diced onion

2 crushed garlic cloves

1 inch finely chopped root ginger

1 chopped red pepper

1 chopped green pepper

4 diced spring onions

227g tin of crushed pineapple
For the Sauce:
150ml chicken stock

1 tbs light soy sauce

1 tsp dark soy sauce

2 tbs red wine vinegar

2 tbs light brown sugar

2 tbs tomato puree

Ground black pepper

1 tsp corn flour
Method
Add the sesame oil to your wok and heat.

Add the onion, garlic, ginger and spring onions and fry for 2-3 minutes on high.

Add the chicken and stir fry for 4-5 minutes, or until lightly coloured on all sides.

Add the crushed pineapple and peppers and continue cooking for another 2 minutes.

Add the chicken stock, light soy sauce, dark soy sauce, red wine vinegar, sugar, tomato puree, and a good pinch of black pepper, and cook for a further 2 minutes.

Mix the corn flour with 1 tbsp of water until it forms a paste.

Add the corn flour/water mixture to the wok and cook for another 2 minutes, or until the sauce starts to thicken and go glossy.

Serve straight from the wok with a nice tasty rice, like egg fried, or mushroom and garlic.
Regular price

Sale price

£35.99

Unit price

per