Herby Turkey Steak Coating
A herby turkey steak coating devised by the mad witch Matt on one of his hungry spice cupboard adventures. It's got basil in and is really tasty.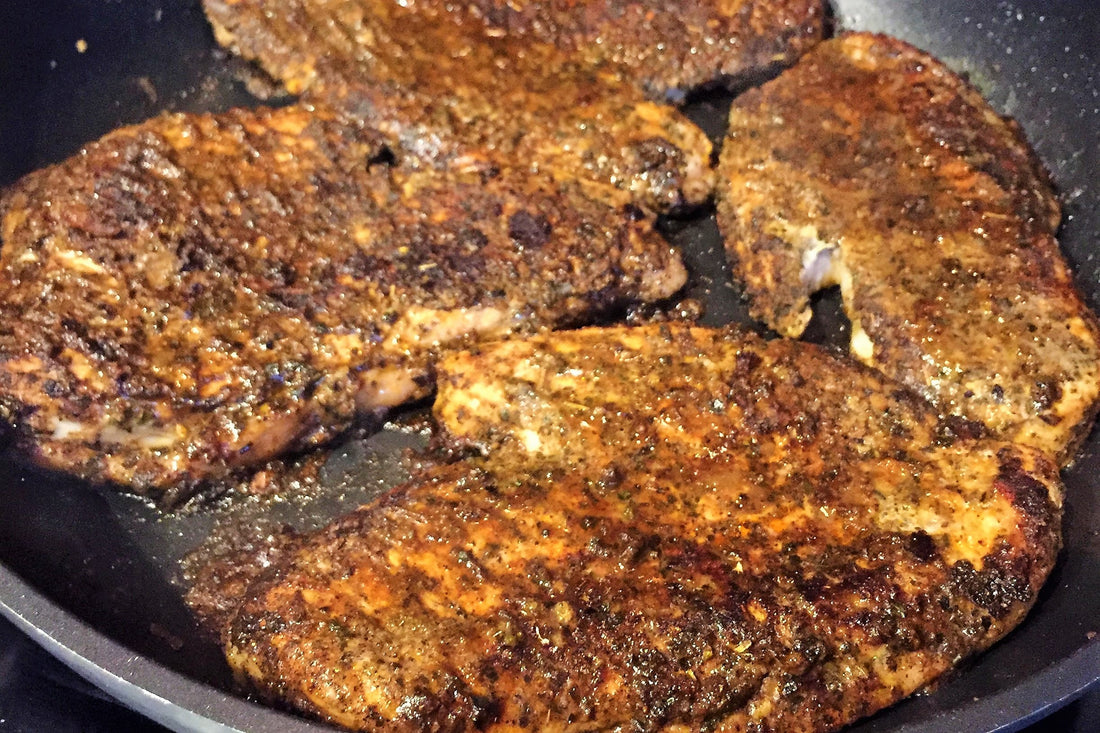 So I came home the other day after a long day at work and was wondering what I could whip up for tea for me and the missus. I opened up the meat drawer in the fridge (yes I have a meat drawer, and you should too) and sitting there patiently were some rather meaty looking turkey steaks. I know some people say they find turkey to be a bit bland, not me usually, but this time I was fancying something a bit more punchy, and maybe herby, so I headed to the spice cupboard to see what I could find. After grabbing out my usually favourites; basically onion, black pepper, and garlic, I headed over to the herbs and started sniffing. Thyme; no, rosemary; definitely not with turkey, tarragon; maybe... Eventually I made it to the basil. Hmm, this will work I thought. So I started mixing things up in a bowl like some mad witch hunched over a cauldron, and came up with this quite simple, but really tasty rub for coating turkey steaks. I guess it may also work well for chicken, and possibly pork chops, give it a go and let me know how it works. Anyway here's what I came up with.
Yield: Serves 4
Prep Time: 10 Minutes
Cook Time: 15 Minutes
Ingredients
4 tsp basil

4 tsp onion powder

2 tsp garlic powder

2 tsp ground black pepper

2 tsp smoked paprika

1 tsp ground coriander

1\2 tsp sea salt
Method
Combine all the dry ingredients in a bowl and mix together.

Cackle like a mad witch and rub your hands together menacingly.

Add the dry rub to the steaks, making sure to cover all sides generously.

Leave covered in the fridge for 10 minutes to let the flavour develop.

Heat a nonstick frying pan, griddle, or fire up the barbecue until hot. Add the steaks and cook for 10-15 minutes turning occasionally until the coating is lightly charred and the meat is thoroughly cooked through - juices should run clear.

Serve with veg and sweet potato wedges.
Regular price

£17.99

Sale price

From £3.69

Unit price

per