Shirley's Easy Meatball Sauce Recipe
A rich tomato sauce with depths of flavour that is absolutely ideal served over beef meatballs. This is one of Shirley's much loved recipes, and is regularly served at home.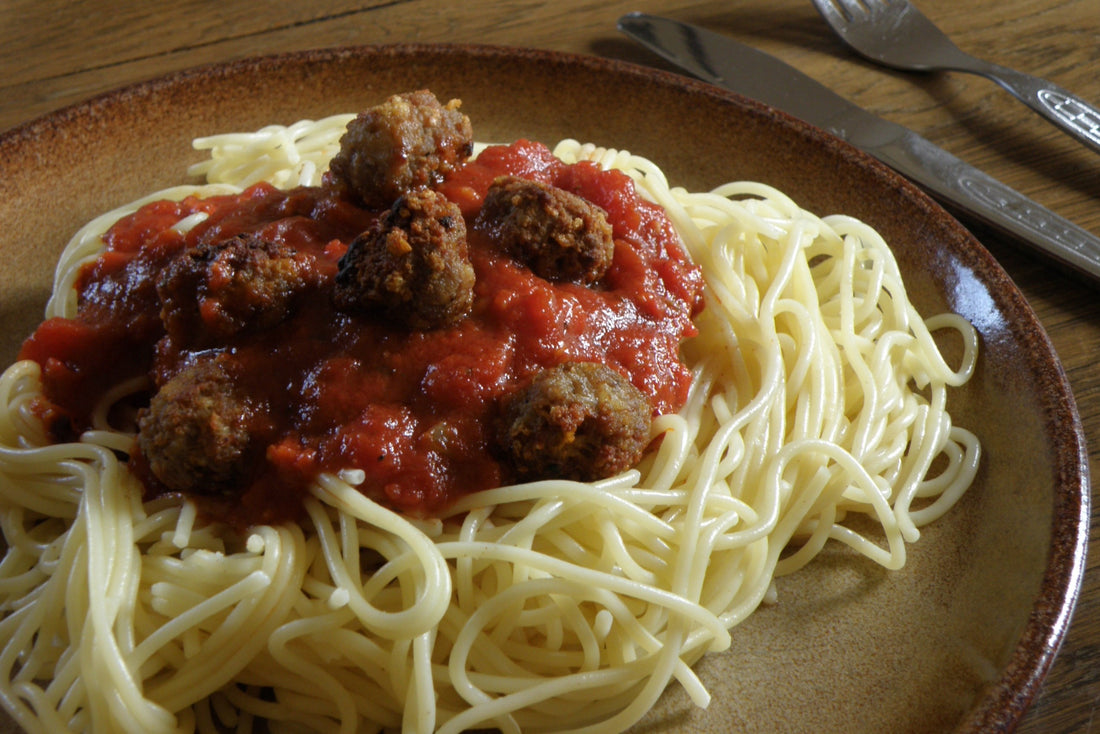 We keep getting asked for a nice tomato sauce recipe to serve with our True Bites beef meatballs so, after a little convincing, Shirley has kindly donated one of her absolute favourite recipes from her culinary arsenal. This is a really versatile recipe. Shirley has even been known to use it with pork sausage, turkey meatballs, and I even recall it once being used to serve over chicken. Goes great with pasta. So, here it is, let us know what you think of it in the comments below... 
Yield: Serves 4
Prep Time: 5 Minutes
Cook Time: 30 Minutes
Ingredients
2 tbsp olive oil

1 onion, peeled and finely chopped

1 garlic clove, peeled and finely chopped

120ml dry white wine

2 tins of chopped tomatoes

2 tsp mixed herbs

100ml water

Salt and pepper, to taste
Method
Heat the olive oil in a frying pan, add the onion and fry until lightly golden. Add the garlic and fry for another 1-2 minutes.

Pour in the wine and leave to simmer until the liquid has reduced by half.

Stir in the chopped tomatoes, mixed herbs, water and season with salt and pepper.

Simmer for 10-15 minutes until the tomatoes are soft.

Add the meatballs to a large pre-heated frying pan and fry for 5 minutes turning frequently until they are browned all over.

Pour the tomato sauce over the meatballs and simmer for 10-15 minutes until they are cooked through.
Tips
Skip out the wine if your're looking for a super quick tomato sauce.
Grate your favourite cheese over the top to really finish it off.