Pigs in the Hole is a remix of the classic British Toad in the Hole recipe using pigs in blankets instead of plain old un-blanketed sausage.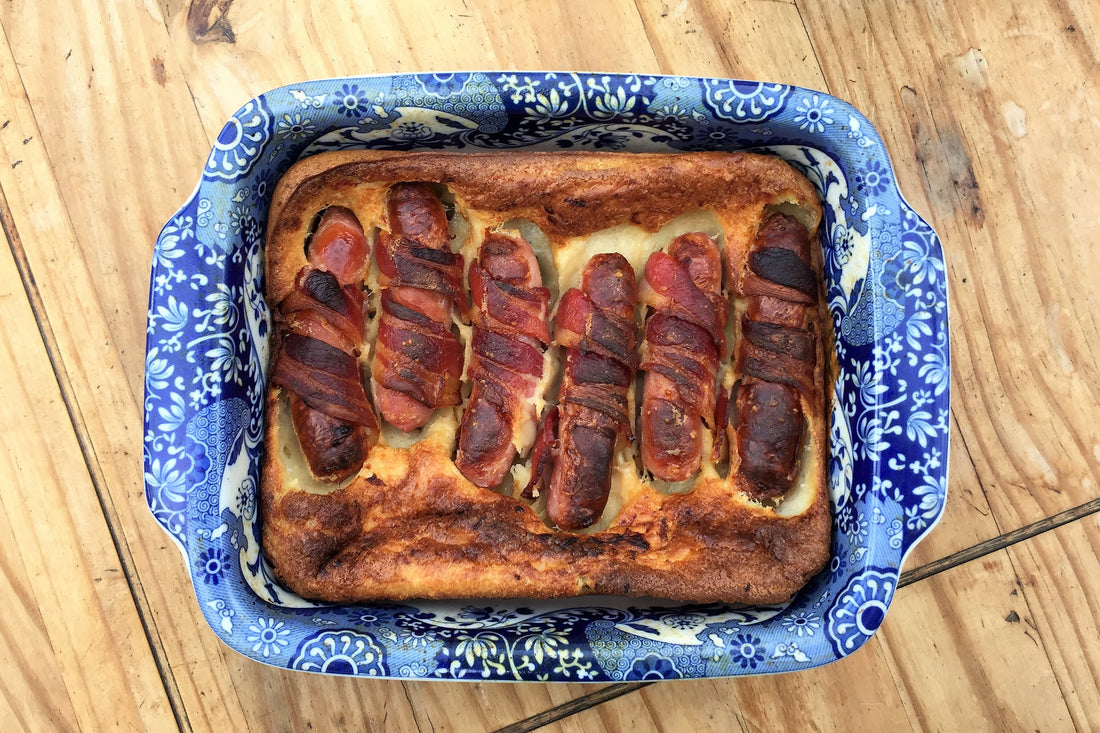 Prep: 5 Minutes
Cook: 40 Minutes
Total: 45 Minutes
Category: dinner
Skill: easy
Cuisine: British
This recipe was conjured up by Shirley after a post-Christmas freezer clear out. Pigs in blankets in toad in the hole is an inspired idea, I'm sure everyone will agree. In some ways it's a crying shame that any pigs in blankets end up in the freezer at Christmas, but Shirley does have a tendency to over order when she's feeling festive (don't we all?!). It's fair to say no one has ever left her house hungry. Anyway, it's a super simple recipe, which might be your next family favourite. As always, let us know what you think in the comments below. 
What to serve with Pigs in the Hole?
Pigs in the hole is best served with mash and gravy, or even mash and baked beans if you're that way inclined.
Can you buy pigs in blankets all year round?
Yep, you certainly can. We here at True Bites believe pigs in blankets aren't just for Christmas. You can order them all year round from our online store.
Can you grill pigs in blankets?
Pigs in blankets are best cooked in the oven, but you certainly can cook them under the grill. Just preheat the grill to a medium heat and cook for 10-15 minutes turning regularly to avoid scorching the streaky bacon.
Can pigs in blankets be reheated?
If you're re-heating cooked pigs in blankets from chilled; put them in the microwave, cover, and heat on full power for 4-5 minutes, or until piping hot. If you're re-heating cooked pigs in blankets from frozen, first allow to defrost in a covered container in the fridge, then cover and heat in a microwave on full power for 4-5 minutes, or until piping hot.
Can I freeze pigs in blankets?
Freeze your uncooked pigs in blankets before the 'use by' date displayed on the packaging. Defrost your frozen pigs in blankets thoroughly in a covered container in the fridge before cooking. If you're freezing cooked pigs in blankets (why haven't you eaten them?.. Anyway...), place them in a sealed container and freeze within 24 hours of cooking.
Ingredients
Method
Place the sausages in small shallow baking dish and cook in the oven for about 20 

minutes at Gas Mark 5 (190C)

While the sausage are starting to cook, sieve the flour and salt into a bowl. Add the 

egg, half of the milk and beat to a smooth batter. Then, stir in the rest of the milk.

Take the sausage from the oven and turn them over, so the brown side faces down. Pour your batter over the sausage and bake for 

another 30 minutes at Gas Mark 7 (210C)

Cook for

 15­-20 minutes, until the batter is browned and crisp.

Dish up straight away.