A super easy, three ingredient recipe that will show you how to make delicious homemade sausage rolls in little under 30 minutes.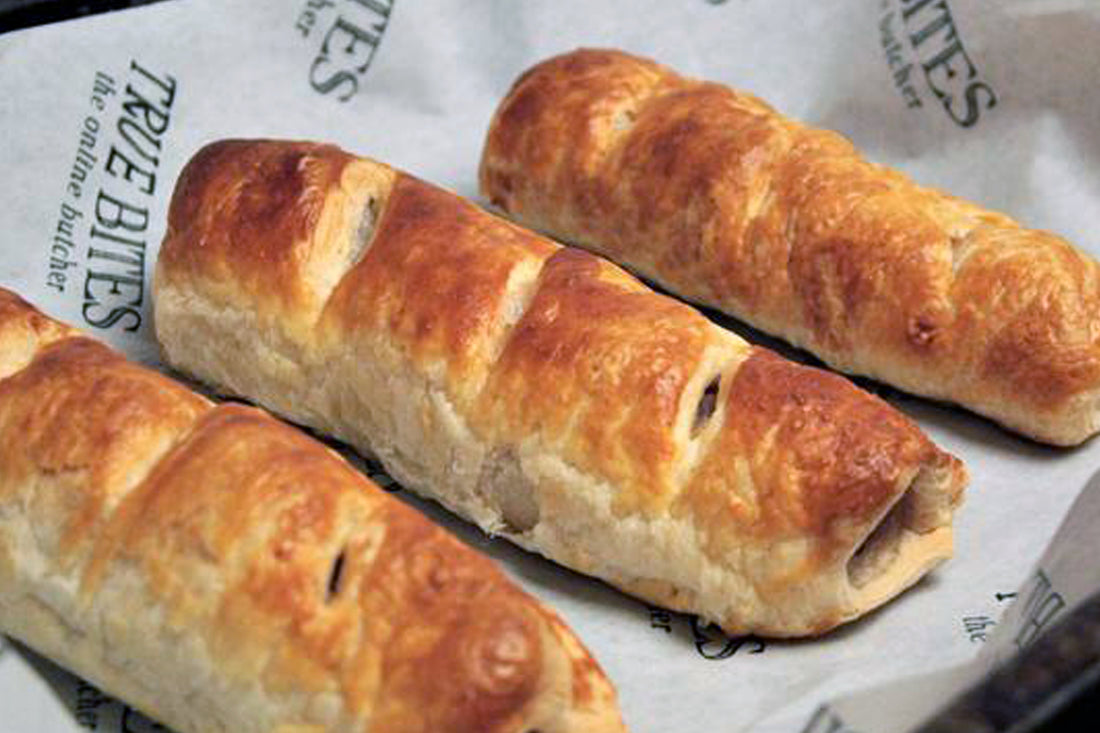 Prep: 10 Minutes
Cook: 20 Minutes
Total: 30 Minutes
Category: Snack
Skill: easy
Cuisine: British
There's only one thing better than a sausage roll hot from the oven, and that's a homemade sausage roll hot from the oven. This recipe is extremely simple to make, especially with the ready rolled pastry, and has been a family favourite for many buffets, and get together's. It will make 6 large sausage rolls, easily enough for one each, but you can also make a stack of mini sausage rolls, by cutting your sausage rolls into one inch lengths before cooking. These are perfect for a party buffet, or snacks at your next family event.
How do I add flavour to sausage rolls?
One of the great things about sausage rolls is how easy it is to add variety, and create your own flavours. Just pop your sausage meat into a bowl, throw in some of your favourite herbs and spices, or even vegetables, mix it all up, and there you go. Use your customised meat the same as you'd use normal sausage meat, and you've got your own signature flavour sausage roll. Just remember, if you're bulking out your sausage meat with added ingredients, you make need more pastry. 
You can also to add flavour to the outside of your sausage rolls, by sprinkling things like sesame seeds onto the pastry after you've added the egg wash. Sesame seeds work rather well, especially if you've added any Chinese flavours to your sausage meat.
What if I don't have ready rolled pastry?
If you haven't got ready rolled pastry, just roll your puff pastry out to approximately 45 x 30 cm before dividing into three and adding your sausage meat.
Ingredients
320g ready rolled puff pastry

1 egg, beaten, to glaze
Method
Preheat your oven to gas mark 7 / 220ºC / 200ºC fan

Roll out your pastry on a floured surface and cut into 

3 equally sized strips.

Divide your sausage meat into 3 equal portions, and form into 3 rolls the same length as your strips of pastry.

Place one roll of sausage meat onto your one strip of pastry. Brush some beaten egg along the one edge, then fold the pastry over and seal the two edges together. Turn your sausage roll over so that the sealed edge is on the bottom. Do the same for the other two sections of pastry.

Lightly score each sausage roll on the top, brush with beaten egg, and cut into whatever size sausage rolls you prefer. Cut each length in half for a generous sized sausage roll.

Put your sausage rolls on a greased baking tray and bake for approximately 20 minutes until they are a golden brown colour. Remove from the oven and place them on a wire rack to cool down.
FAQ's
What pastry are sausage rolls made from?
Although you can make sausage rolls with shortcrust pastry, the traditional way is to use is puff pastry.
Can you freeze cooked sausage rolls?
Yes, cooked sausage rolls can be frozen, but care should be taken to do this safely. First, your sausage rolls should be allowed to cool, then they should be wrapped up, or put in a lidded container, and only then should they be frozen. You should freeze them as soon as possible after cooking (within a maximum of 24 hours), and for quality purposes, we recommend using frozen sausage rolls within one month of freezing. If you're re-heating you sausage rolls, you should make sure they reach an internal temperature of 75C.
What temperature should sausage rolls be?
You should cook your sausage rolls until the meat reaches an internal temperature of 75C. The easiest way to measure this is with a hand held temperature probe.
How long do homemade sausage rolls last?
Your cooked sausage rolls should be good for 5 days if they are kept covered and refrigerated. Please make sure you check out our article Can You Put Hot Food in The Fridge? for information on how to cool and store leftovers safely.