How to Make a Burger Patty
Let the True Bites butchers show you how to prepare and shape the perfect burger patty. Including how to choose the right mince, and the best way to season your patty...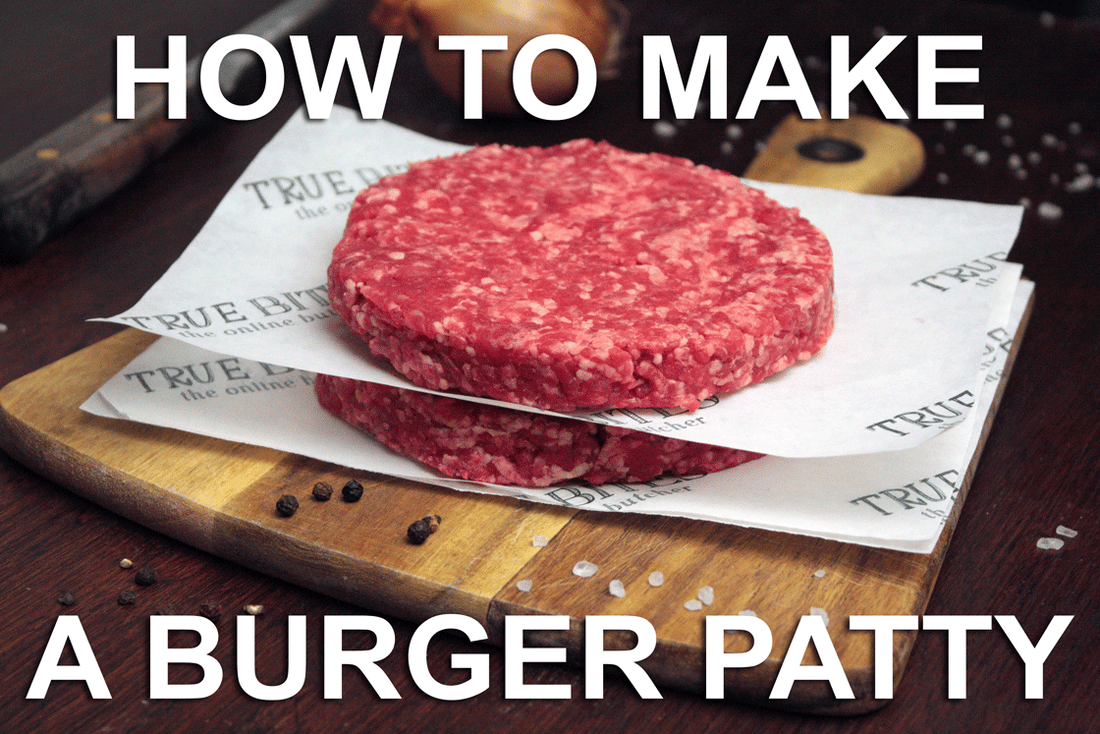 Prep: 5 Minutes
Cook: 10 Minutes
Total: 15 Minutes
Category: dinner
Skill: easy
Cuisine: American
There's an almost unlimited amount of ways to make burgers, and it seems everyone has their own preferred recipe. Whether you make yours with or without an egg, whether you like to mix your meats, or add some herbs, there's really only one way to make the perfect patty. Let us show you how we do it here at True Bites.
Choosing the Right Mince
As I've said before, the real secret to a great burger is the right mince. Ideally you want a coarsely ground mince, with a good fat ratio. The fat will help the burger cook, keep it moist and juicy, and will really add a nice depth of flavour. So, get yourself some mince with around 80/85 percent lean to fat ratio.
Getting Started
It's important to keep the meat cold at all times and to try and handle the mince as little as possible in order to avoid overworking the meat. A good tip is to make sure you have a jug of cold water handy to dip your hands in before you handle the mince. This helps to keep the meat cold, and it also stops the mince from sticking to your hands, which is a bonus. 
As always, when working with meat, you should keep your hands and working area clean at all times, keep raw meat away from ready to eat foods, and try to wash up as soon as you're done. 
Ingredients
Sea salt (to taste)

Black pepper (to taste)
Method
Take your 1KG of beef mince and divide it equally into 8. This will give you patties that are just a touch over 4oz each. If you're unsure how much mince you have to start with, then you can weigh out your meat into 110-115 gram piles, if you're aiming for 4oz patties. 4oz is actually 113 grams.

Once you've divided, or weighed out, your mince, it's time to form your patties. Dip your hands into some cold clean water, grab one of your piles of mince, and gently roll it between your hands to form a rough sphere. Then squash the patty between your hands and gently press until the patties are around 10-15mm thick. Take care not to compress the meat too much, as this can lead to heavy patties.

Lay each patty on a clean cutting board, or a sheet of grease proof paper. Once you've formed all your patties, dip a teaspoon into the cold water and press the back of the spoon into the middle of each patty to create a dip. This helps to stop your burger swelling up while you are cooking, which happens because the patties start to revert to their original sphere shape once they are subjected to heat.

Season both sides of your patties with a generous amount of sea salt, but please only season your patties right before cooking. If you leave the salt on your burgers for more than a couple of minutes before cooking, the salt will start to draw moisture out of the meat, which is not what we want. So whether you're cooking under the grill, on the BBQ, or on a griddle, make sure you don't season your burgers too early.

If you're preparing your burgers ahead of time, get them covered and in the fridge before you season them, as it's best to season them right before cooking. If you're preparing them for the freezer, wrap them up individually, again before seasoning, and freeze them straight away. Do not leave beef mince out at room temperature.

Once you've prepared and seasoned your patties get them cooking straight away. Preferably on a cast iron griddle, or barbecue, and over a high heat.

Add freshly ground black pepper halfway through cooking or even right before serving. T

his is important, especially if you're cooking at high heat on a griddle or under the grill, as black pepper can easily burn and leave you with a bitter flavour.
How Do You Make a Good Burger?
A good burger starts with simple, quality ingredients, so please do try to use fresh beef mince for your home made burgers, and, don't be scared of 10-15% fat in your mince. A lot of the fat will render out while cooking, which will stop your burgers from drying out. Once you couple quality mince with your favourite burger sauce, some cheese and/or bacon, a bit of lettuce, maybe a tomato, you've really got a great homemade burger. It really is worth taking the time and putting in the effort, you really will taste the difference. 
Do you need an egg to make burgers?
Eggs are only really used in burgers as a way to bind the meat together, but if you're careful with your mince while preparing and cooking, your burgers will hold together anyway. 
How big should a burger patty be?
Stick to a 4oz (110g) patty, these will cook quickly and evenly, and if you want more, just double them up. 
What do you season burgers with?
Stick to a simple seasoning of sea salt and black pepper, taking care not to add the salt to early before cooking. It's also good practice to add your black pepper halfway through cooking or just before serving to avoid burning it, which will impart a bitter flavour.