A traditional spaghetti Bolognese recipe straight from the True Bites family cook book. No shop brought sauces, this is how to make bolognese from scratch, and it's delicious.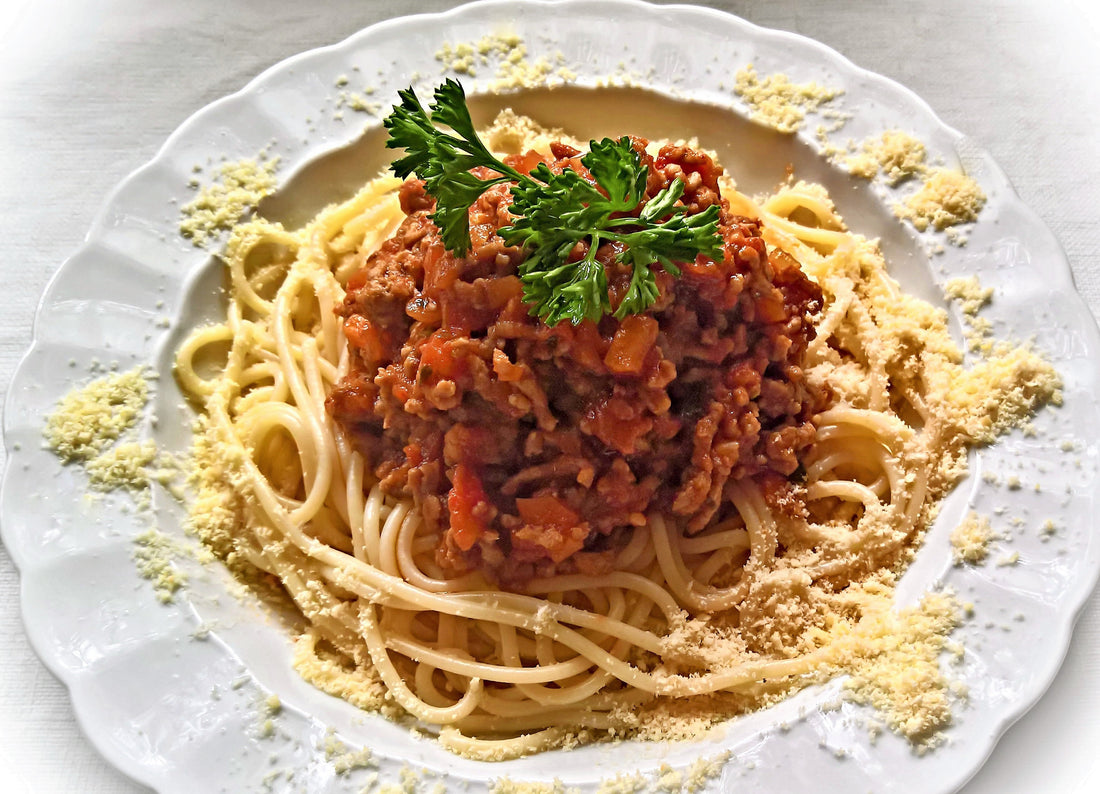 One of Shirley's stone cold classics, and one which she regularly whips up for the family at home. If you've been making bolognese with shop brought sauce, then you really need to stop and try this recipe. It's really pretty simple to make and doesn't contain any of those preservatives, or loads of sugar, which you'll find in ready made sauces. Trust us, once you've made a traditional bolognese from scratch, you really won't want to go back to anything straight out a jar. Also, it's a great excuse to buy a nice bottle of red wine and sneak a glass in while you cook. Just save a bit to have with your meal! Anyway, if you've never made bolognese from scratch before, please give it a go, this one never gets any complaints.
Also, if you're forgetful like me, and you've forgotten to buy the garlic bread; just press, or finely chop, a glove of garlic, mix it with some real butter and a dash of chopped parsley, spread it on a sliced baguette and warm it through in the oven. Job done. Garlic bread. 
Ingredients
1 medium onion

1 clove of garlic

2 tablespoons of olive oil

1 x 400g tin of chopped tomatoes with mixed herbs

2 level tablespoons of flour

2 tablespoons of tomato purée

pinch of Italian herb seasoning

1⁄2 pint of beef stock

1 medium glass of red wine

seasoning to taste

grated Parmesan to taste

350g spaghetti
Method
Peel and finely chop the onion and garlic. Heat the olive oil in a large saucepan and then add the onion.

Cook until the onion is soft but not brown, usually between 5 and 10 minutes.

Add the garlic and minced beef to the saucepan and brown quickly. 

Then add the flour, seasoning, tin of tomatoes, tomato purée and Italian herbs to the saucepan, stirring while you do.

Finally, add the stock and red wine. Lower the heat, place the lid on the saucepan and simmer gently for about 45 minutes.

Stir occasionally to make sure that the sauce isn't sticking to the pan and that it doesn't become too thick. Add a bit more stock if you think it is too thick.

About 15 minutes before you want to serve it, add the spaghetti to a saucepan of boiling water and boil for about 10 minutes or until cooked to your taste.

Serve the bolognese sauce poured over a bowl of spaghetti with grated parmesan/cheese 

sprinkled on the top.