A slow cooked lamb hotpot recipe with crispy sliced potatoes on top, and delicious, melt in your mouth lamb underneath.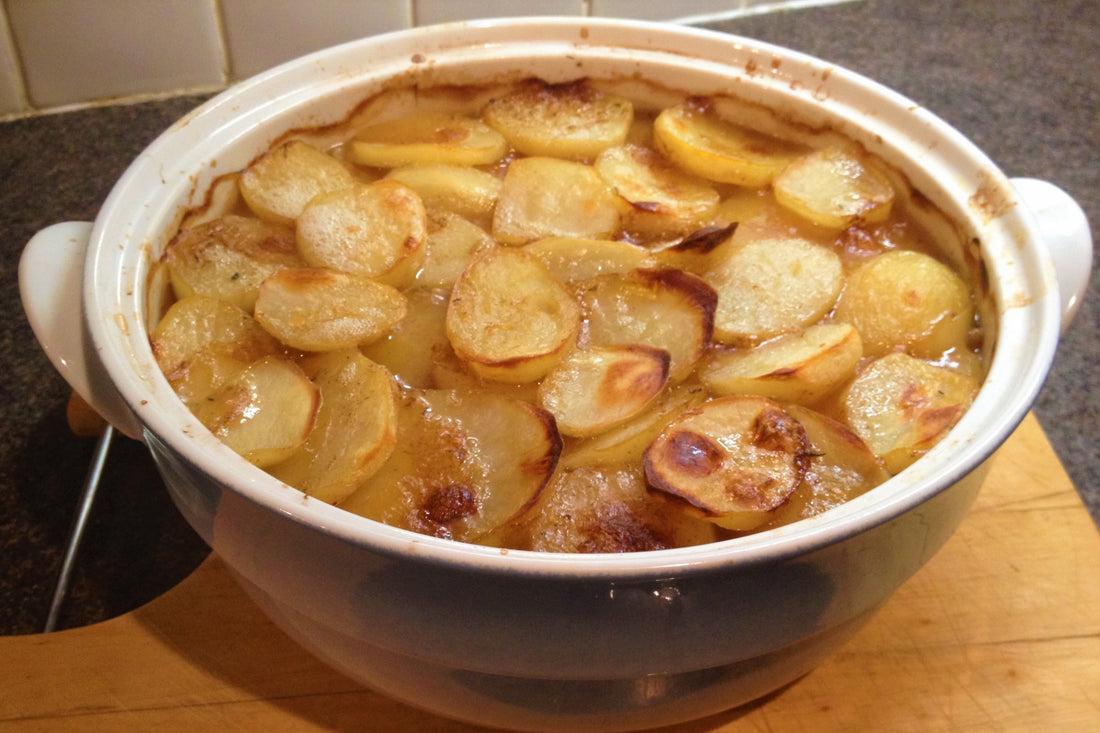 It might surprise you, being as I'm a butcher and all that, but I don't actually eat that much lamb. Don't get me wrong I like lamb, it's just not really something I regularly use at home. I guess I see it more as something for a special occasion. This is a problem I have decided to address, and where better to start than with an incredible lamb hotpot recipe. This is actually one of Shirley's recipes, and it is up there with my favourite ever meals. It's especially good around Autumn when the nights are drawing in, it's starting to get cold, and you just want something homely for a cosy night in. And, it's got pearl barley in, which I absolutely love. Having said that, the real magic of this recipe is the potatoes on top. They kind of soak up some of the lamb fat as the whole thing is cooking, and if you give them chance to get nice and crisp, well, let's just say, they really are the icing on the cake. Anyway, it's a seriously tasty recipe, so please do give it a try.
Ingredients
2 tablespoons olive oil

4 medium onions, peeled and sliced

1.5 tbs flour

800ml of lamb stock

generous pinch of dried thyme

2 bay leaves

3 tsps Worcester sauce

50g of pearl barley

900g of potatoes, peeled and sliced

30g butter, in small squares
Method
Preheat your oven to Gas mark 3/160C/140C fan.

Heat 1 tbs of olive oil in large frying pan (or wok) and brown the lamb in batches over a high heat. When browned, remove from the pan and place in a large casserole dish.

Add the remaining 1tbs of olive oil to the pan and fry the onions over a gentle heat until they are soft and then add the flour.

Pour in the stock and Worcester sauce and then continue stirring until boiling.

Season with salt and pepper to taste and then pour over the lamb.

Add the bay leaves, thyme and pearl barley and stir well.

Arrange the potato slices on top of the ingredients and dot knobs of butter on top of them.

Place a tight fitting lid on the casserole dish and cook in the oven for at least two hours. Remove the lid and cook for a further 45 minutes, until the potatoes are cooked, brown and crisp. (you may want to turn your oven up to do this)
Tips
The key to a great tasting dish is quality ingredients, so please do try to use our quality British lamb whenever you can.
You could always cook this in a slow cooker (or a Slow setting on your oven).
Best to oven cook if you want your potatoes crispy on top though!