Beef Casserole with Potatoes
This traditional homemade beef casserole with carrots, parsnips, onions & potatoes is the ultimate winter warmer. Slow cooked, simple to prepare, but with real depth of flavour. This is the only beef casserole recipe you need.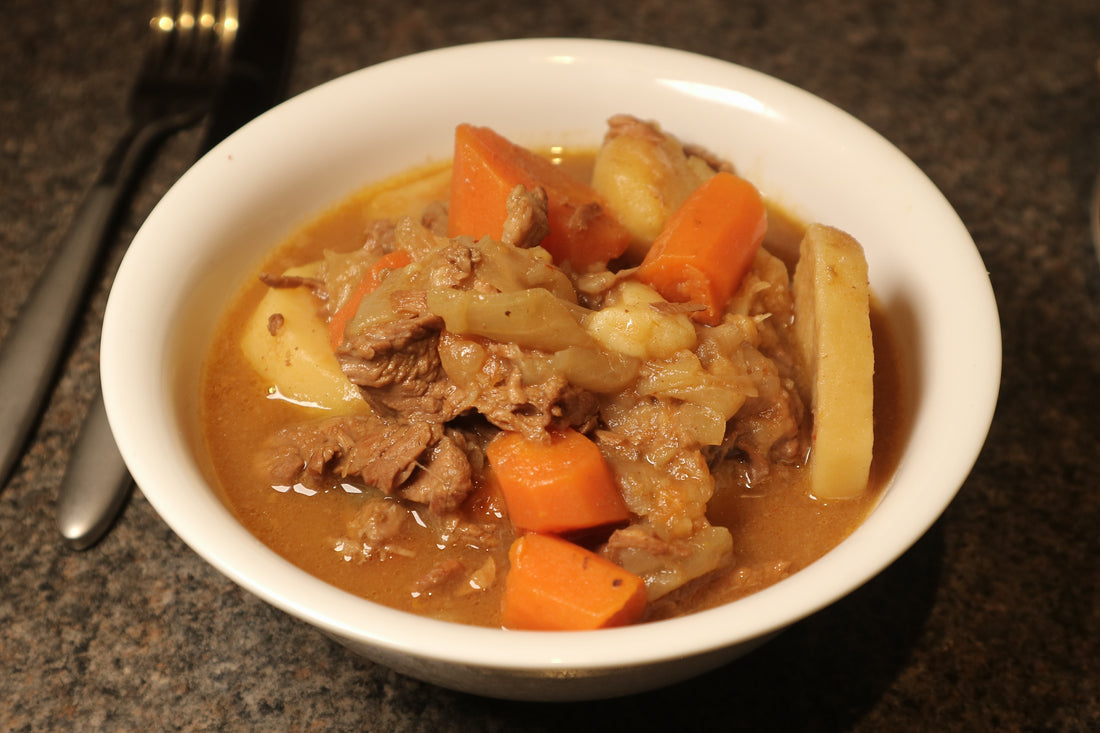 Prep: 5 Minutes
Cook: 255 Minutes
Total: 260 Minutes
Category: dinner
Skill: easy
Cuisine: British
This recipe for beef casserole is again one of my own which I cook regularly as soon as the temperature begins to drop. Well, to be honest, it's so tasty we don't always wait for colder weather. Thinking back, I must have been cooking this stew for over 20 years, as I first started cooking it when my son's were younger and played football for their local teams on a Sunday afternoon - oh joy! It's taken years of tinkering, but I think I've finally got it right. I love this casserole because it fills the house with a delicious, mouthwatering aroma, which is great to arrive home to after a long day at work. I used to serve the potatoes on the side, but one day (to save time) I decided to add the potatoes into the casserole and the family loved it. They really work in there as they absorb all the tasty flavours, so now they go in every time, which I must admit makes it very easy to serve at the end of the day. All it really needs with it is some thickly sliced crusty bread. 
This might be a super simple recipe, with relatively few fussy ingredients, but the flavour really is wonderful, and as with all stews and casseroles, the left overs the next day seem even better that the first time around. I guess this is because the flavours have had even more time to develop and infuse throughout the dish. Anyway, if you're planning on having leftovers, please make sure you check out our article Can You Put Hot Food in The Fridge? for information on how to cool and store leftovers safely.
Can I cook beef casserole in a slow cooker?
Yes, we've actually cooked this in a slow cooker numerous times and it always comes out great, and it's really simple. You can, if time is really against you, just pop all the ingredients in and turn the slow cooker on, but it won't really be the same. To really get the rich, depth of flavour you want, you should seal the meat in hot oil in a large frying pan before adding it to the slow cooker. I also suggest you lightly brown the parsnips, onions, carrots, and potatoes, in the same frying pan before putting them in the slow cooker. This really helps to unlock the sweetness of the veg and it really adds a rich, deep flavour to the whole casserole. Then, all that's left to do, is stir in the flour, a generous amount of tomato puree, the stock and some salt and pepper, pop the lid on and leave to cook on high for 4 to 6 hours depending on your slow cooker. Simple.
Do I have to brown the meat for beef casserole?
Yes, if you want your dish to be flavoursome. When we brown meat over a high temperature, there is a chemical reaction (known as the Maillard reaction) between amino acids and reducing sugars, which acts to change not only the colour of the meat, but the texture and the flavour too. Basically, we are caramelising the meat, which gives it a distinct flavour and in turn flavours the stew or casserole.
You should always do you best to rescue the brown bits left on the bottom of the pan after sealing the meat, as these pack some serious flavour. Scrape them up with a wooden spoon (so you don't damage your pan) and pop them in your stew or casserole, it might seem like extra effort, but believe me it's worth it!
How do you make beef stewing meat tender?
Searing the meat is the first step in making it tender. Then it's low and slow. It doesn't matter if you're cooking a stew on the top of your stove, a casserole in the oven, or you're cooking in a slow cooker, to get super tender meat you'll need to cook it very slowly for several hours. Stewing meat is often made up of tough muscle tissue and the long, slow cooking allows all the collagen in this tissue to melt, adding deep flavours, and also tenderising the meat. 
What is the best beef for beef casserole?
As always, it's worth remembering that the key to a really great tasting dish is quality ingredients. We recommend using our diced beef steak, which we cut from the chuck, or occasionally the top rump of the animal. These cuts are perfectly suited to longer cooking times, and will give you a beautiful rich flavour. You really will taste the difference. 
Ingredients
Vegetable oil

4 tbsp flour

4 tbsp tomato puree

500g parsnips, peeled and cut into chunks

500g onions, peeled and quartered

500g carrots, peeled and cut into chunks

500g potatoes, peeled and thickly sliced

1 litre beef stock

Salt & pepper to taste
Method
Add 1 tbsp of vegetable oil to a large frying pan over a high heat. Once the pan is hot, add the beef and seal on all sides. Once browned, re

move the meat with a slotted spoon and place in a flame proof casserole dish.

Lightly brown the parsnips, then the onions, then the carrots, then the potatoes in the frying pan, and place each in the casserole dish with the meat.

Place the casserole dish on the hob over a medium heat. Once hot, s

tir in the flour and fry for a few minutes.

Add the tomato puree, the stock, salt and pepper to your taste, and bring to the boil.

Cover and place in pre-heated oven at gas mark 1 / 140C / 120C fan.

Cook for at least 4 hours, but for best results, cook for 6-8 hours, or until the meat is really soft and tender.
FAQ's
What if I only have a small frying pan?
No problem, just use a small frying pan and seal everything in smaller batches, or, if you have one, you could always use a wok instead. If you're using a smaller frying pan, don't overload it, as this will draw the heat out of the pan, which will make it difficult to brown your ingredients, and you'll end up cooking out some of that important moisture. 
What kind of potatoes do you use in beef casserole?
There is no definitive rule, but I've always used, and recommend using, Maris Piper potatoes in casseroles and stews. They should be clean, with any blemishes removed, and cut into nice chunky pieces. This way they can withstand a long cook without becoming too mushy. I've always preferred my potatoes peeled in my casseroles and stews, but again, that is down to personal preference. 
What's the difference between a stew and a casserole?
Normally, a stew is cooked on the top of the stove with the heat coming from underneath. Whereas a casserole is cooked in the oven with the heat coming from all around.
How can I thicken a casserole?
Both cornflour and arrowroot can be used for thickening, and are incidentally both gluten free. Just put a couple of teaspoons of your chosen flour in a cup and mix with cold water to form a paste. Then, add it to your casserole slowly until you have the consistency you prefer. If it's still not thickened enough mix in some more until it's how you like it. Most people use cornflour in savoury dishes and arrowroot in sweet dishes but arrowroot doesn't have a flavour so will work.